This is my easiest Beet bowl of goodness made in under 10 minutes. It will take you more time to read the recipe than making it.
I love Beetroots, they are yummy plus have many nutritional benefits which you can google. The girl doesn't want to copy paste those here. I love to use seasonal produce because it is fresh and easily available. Let's keep it short and simple here.
Ingredients –
1 Big Beetroot – Grated (Boiled or raw, whatever you like)
1 bowl of millets (use rice or oats if you don't have these at home)
Soyabeans – 5-6 Tablespoons
Onion stems for garnishing and colour
Egg (however you like it)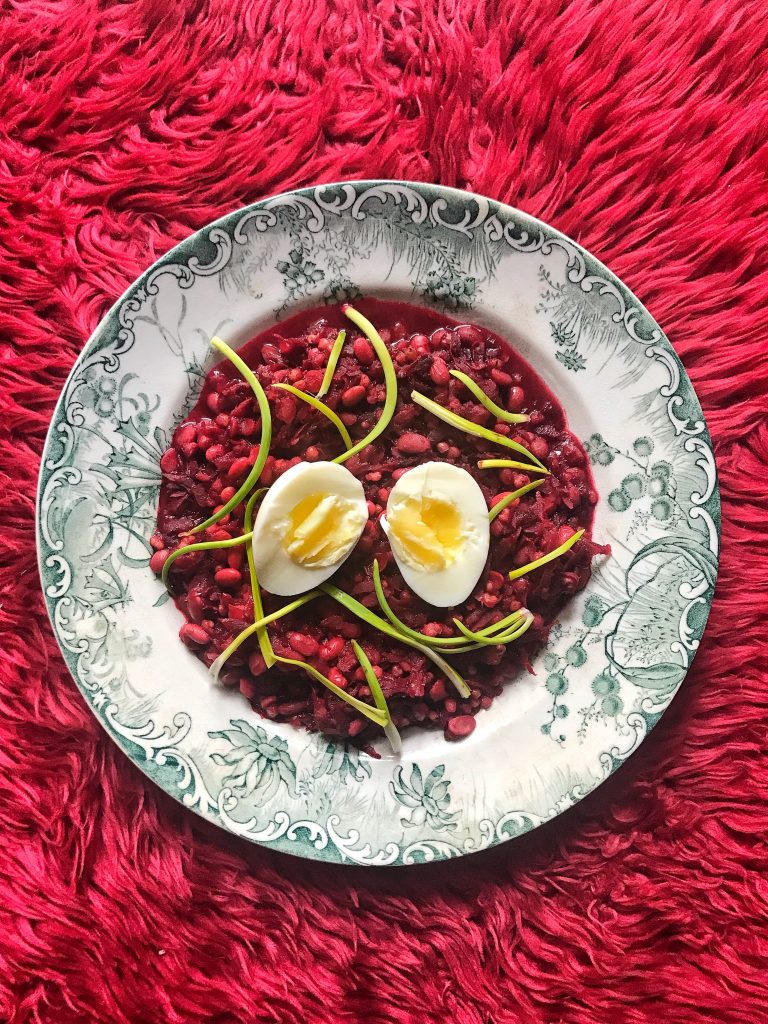 Method –
Put half a teaspoon of Desi ghee in a pan and add Garlic. Let it brown
Add everything else and give it a good stir.
You might need some water to mix it, I used the leftover millet's ka boiled water.
Cover the pan and let it simmer for 5-6 minutes, so it gets a thick consistency.
Garnish this beauty with Onion stems and/or an egg.
I was aiming for a soft boiled egg but then lost track of time thinking about weird stuff so hard boiled it is.
I know a lot of people are afraid to go beyond the Beet 'salad' so here is a dish for you guys to try out. And if you are one of those you can't stand the taste of beet, I promise you won't get the taste here. The few meals that I cook are usually made in under 10 minutes, so I don't get overwhelmed, haha.
The dish is very warm and will fill you up for quite a few hours. As it contains a lot of protein, carbs, iron and fiber. It's simple but every ingredient used is full of nutrients. I love the colour of the beet and it does not taste boring at all. So babies, today we learnt that healthy food need not taste blah. It can be yummy and still healthy!
The Sun is shining so bright today, it's a beautiful day!
More Beetroot recipes –
For my delicious Instagram worthy snack bowl recipe, click here.For my healthy Beetroot Breakfast option 1 and 2, click here and here.