I love how short trips are so short but aren't extremely long that packing for it becomes a pain. You get that, don't you? As much as I enjoy travelling, but that idea of packing for an entire week or two (for my REAL holidays) is exhausting. That's why short trips come as a long breath of fresh air. Well, packing for 24 hours is a cake walk except the toiletries, but that demands a new post altogether. Let's concentrate on what to pack when it comes to clothes and accessories.
This past weekend, I had a small work related travel up North (There is more to North than Delhi:-P) for half a day and I decided to stay back and catch up with friends for the latter part of day. I wore a light pastel coloured Trench for the early morning drive because it is still cold enough here and was colder there too. I wore a light tee underneath it. I paired it with my bright pink trousers which can be paired for work if worn with something light. To tell you the truth, I love pairing pastel (pista) green with bright pink since the time I saw a Lehenga with same colour combination back in 2006 and can't get this combination out of my mind ever since.
Coming back to this post, I wore my comfortable mid heel nude shoes to take me through the trip. Girls, nude shoes are a must have. They flawlessly take you through all your outfits and are not at all demanding when it comes to styling. Also, a silk scarf, earrings and a side bun added to my look and made me look put together.
Now for the most essential part – bag, I love this brown leather sling bag from India circus. I love how medium sized it is with a very neutral colour which makes it easy to be paired with. It held all the essential documents and my phones and was perfect for work. Plus the Indian touch to their bags is always a winner for me.
More about the evening look and the links to what I am wearing are below. Keep reading 🙂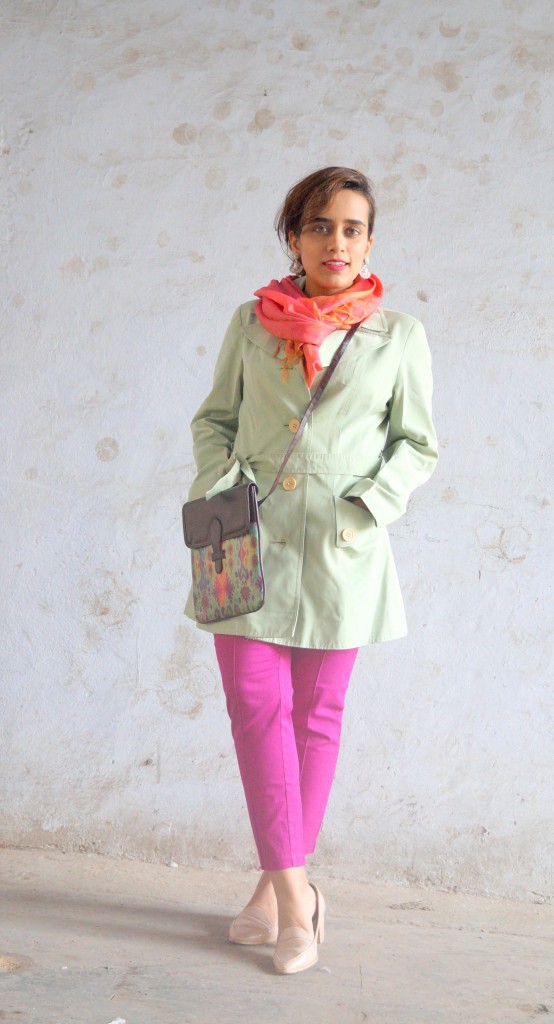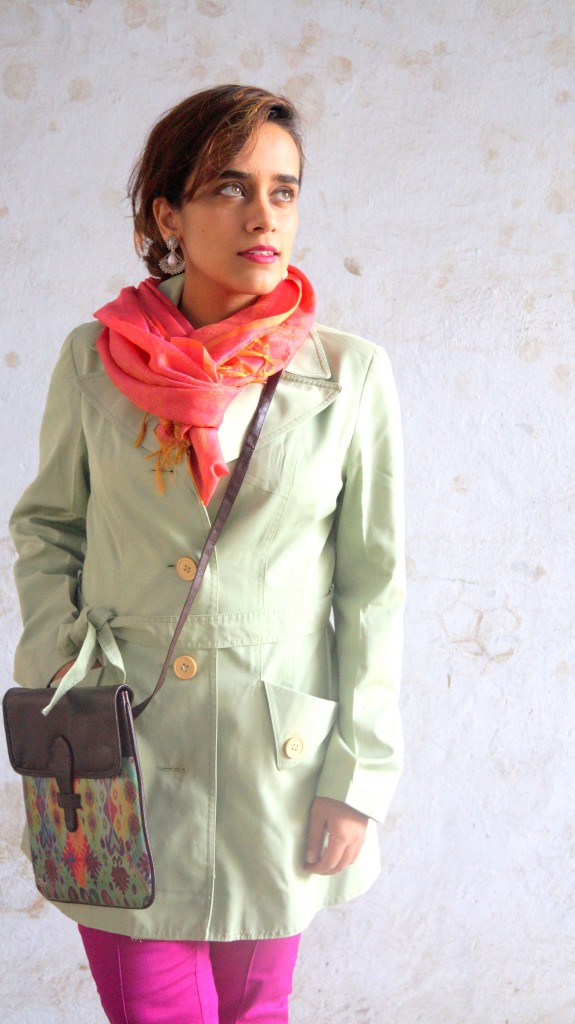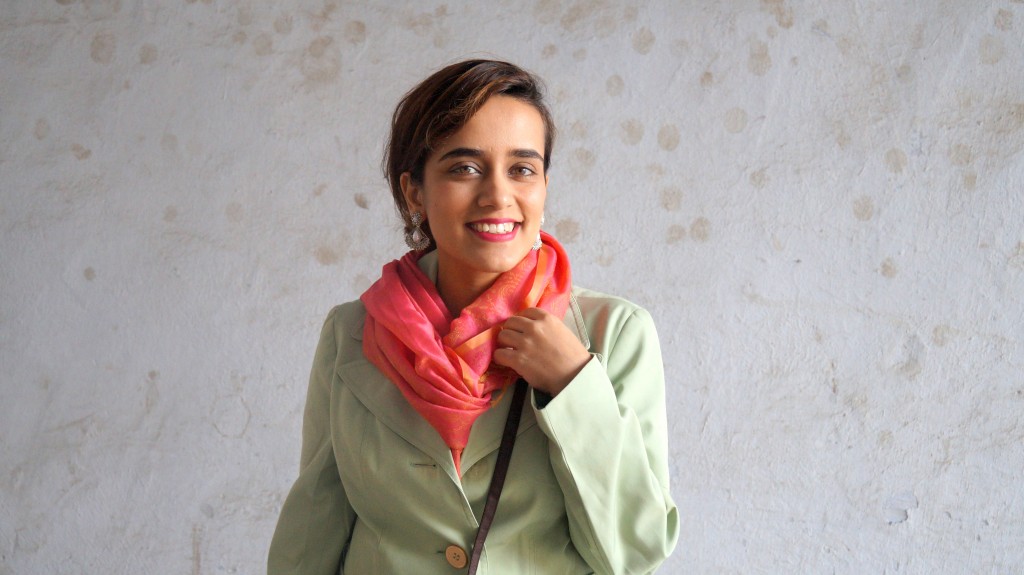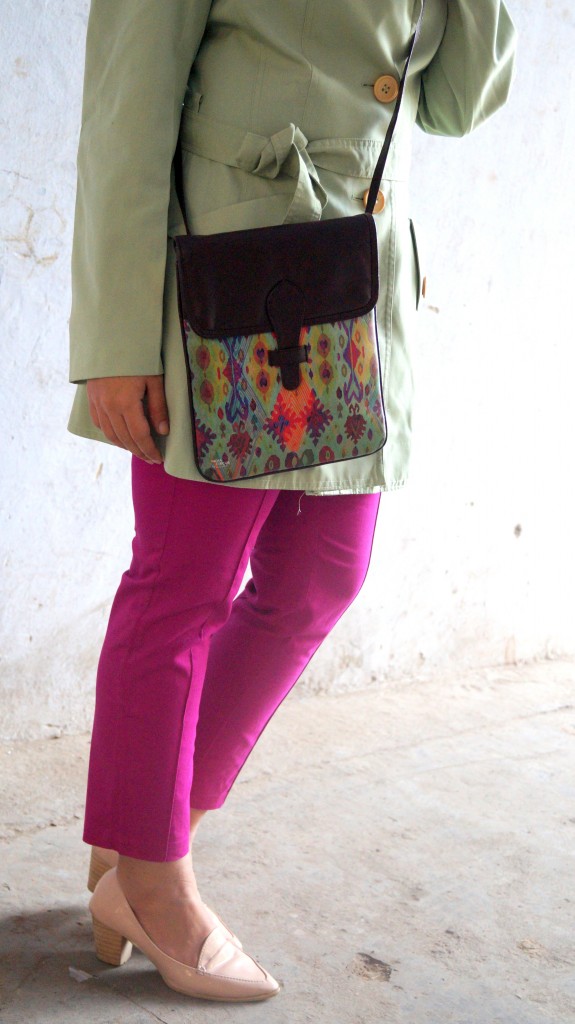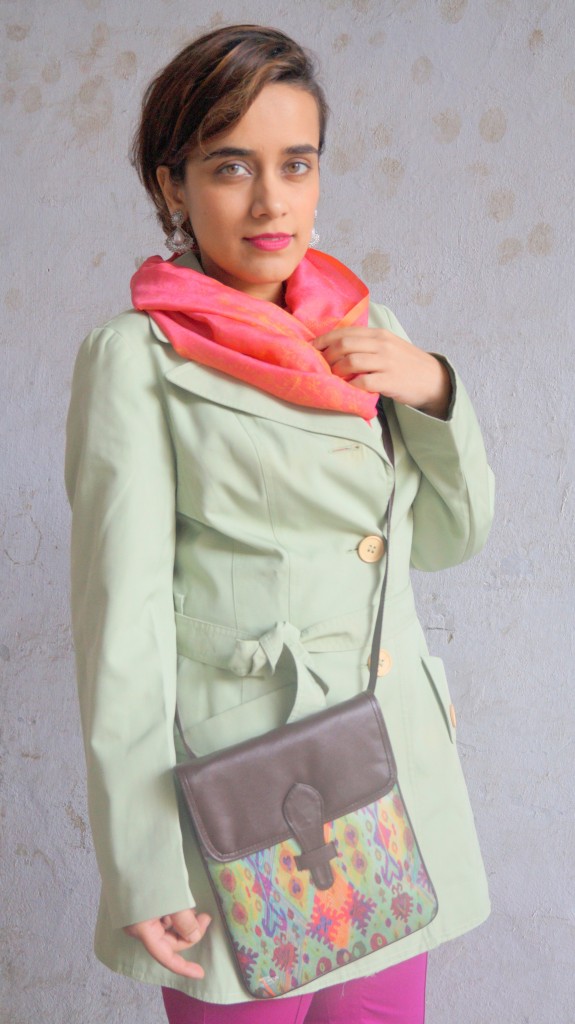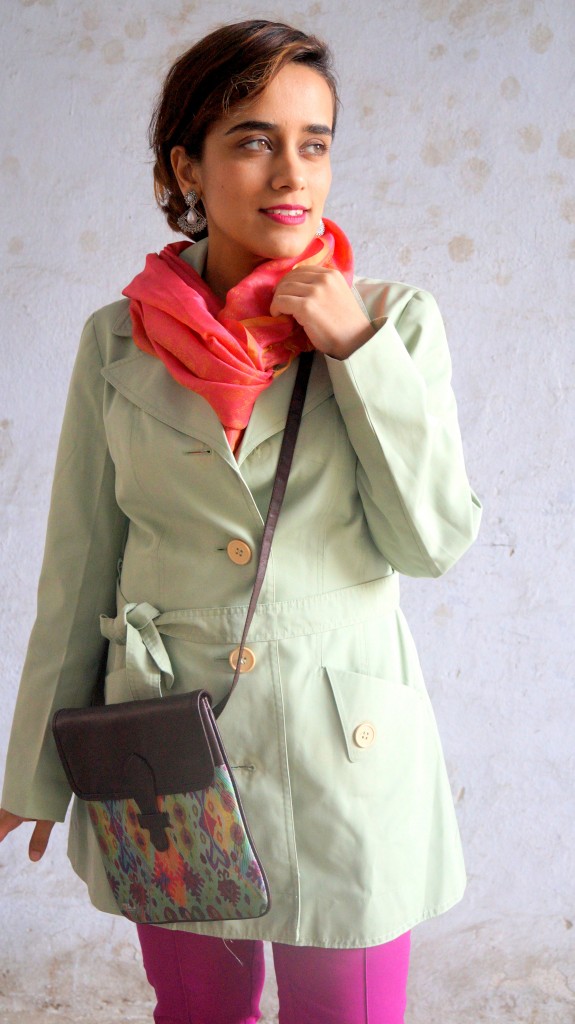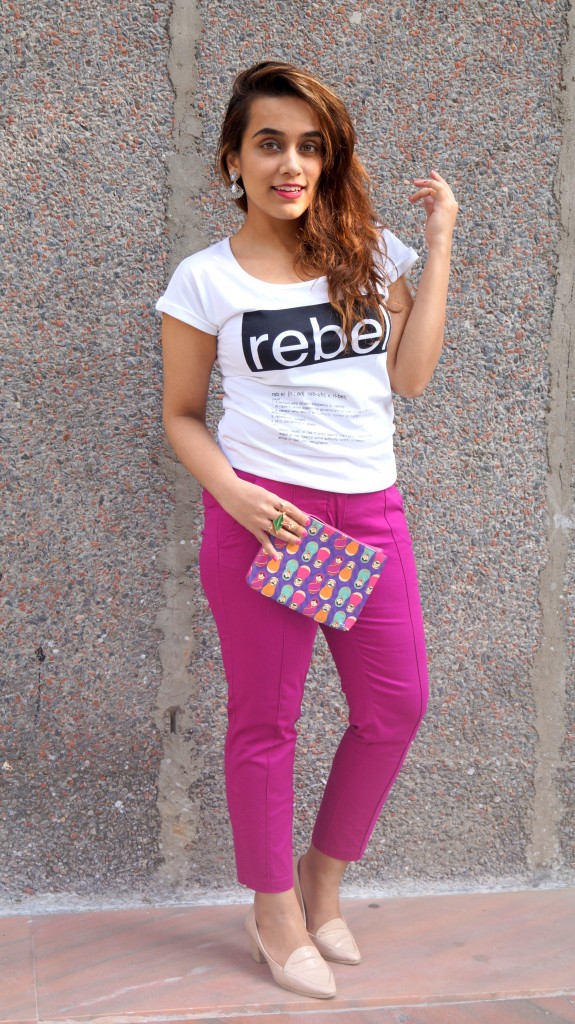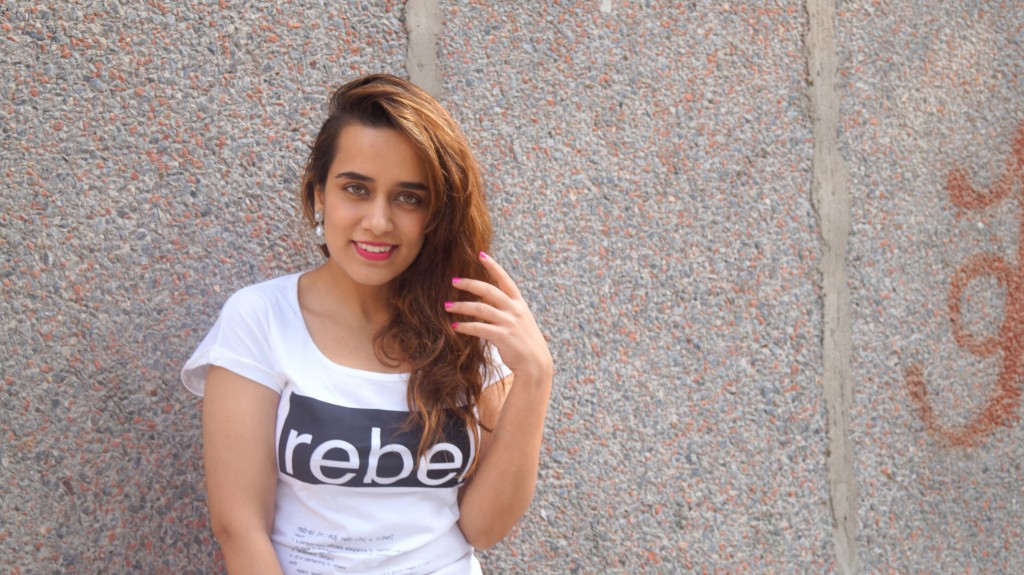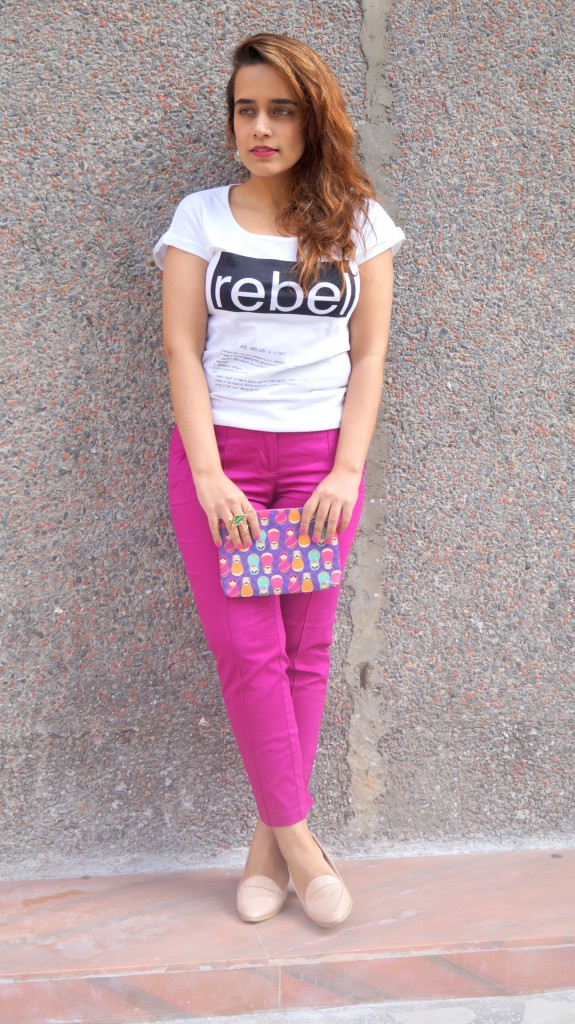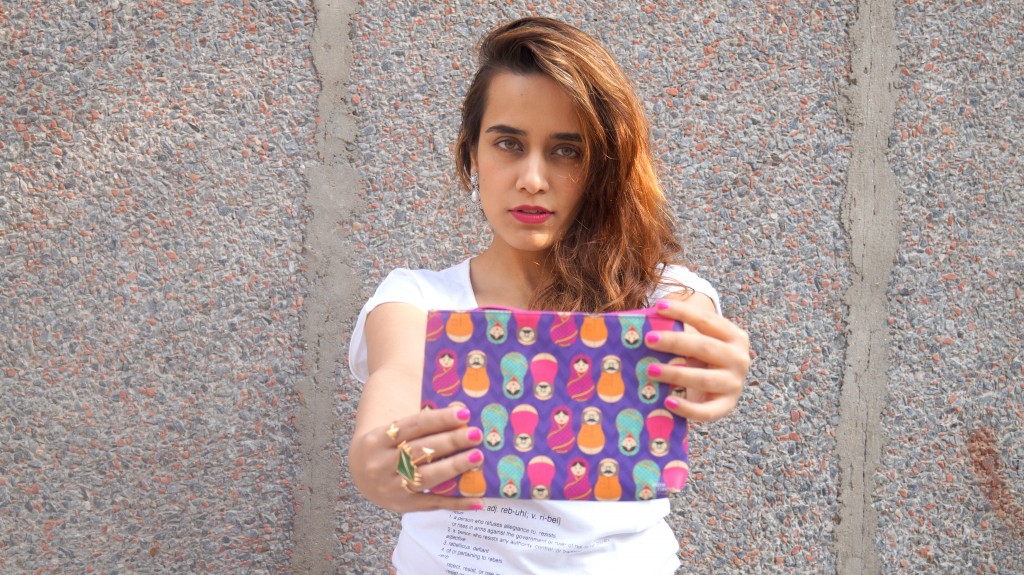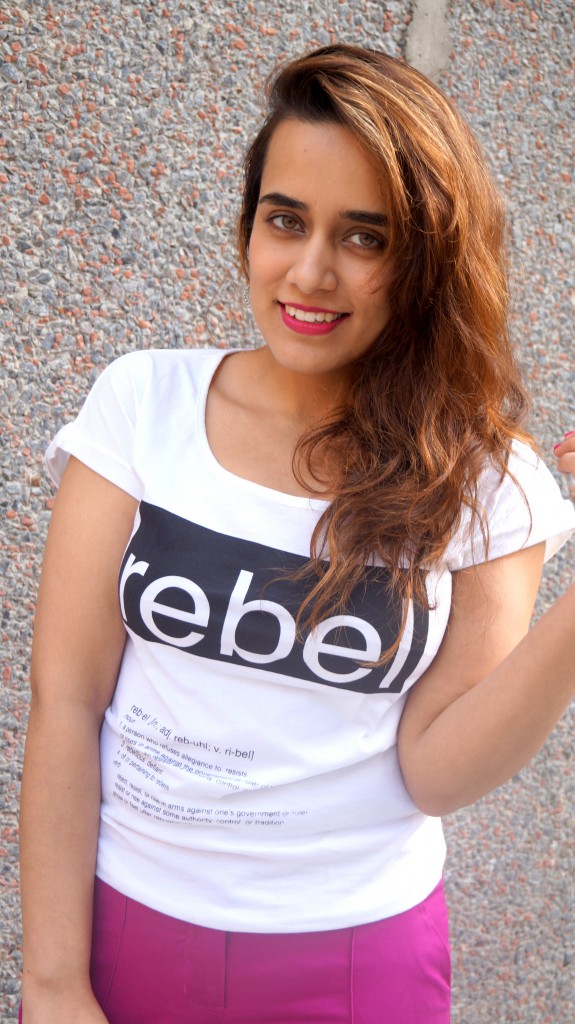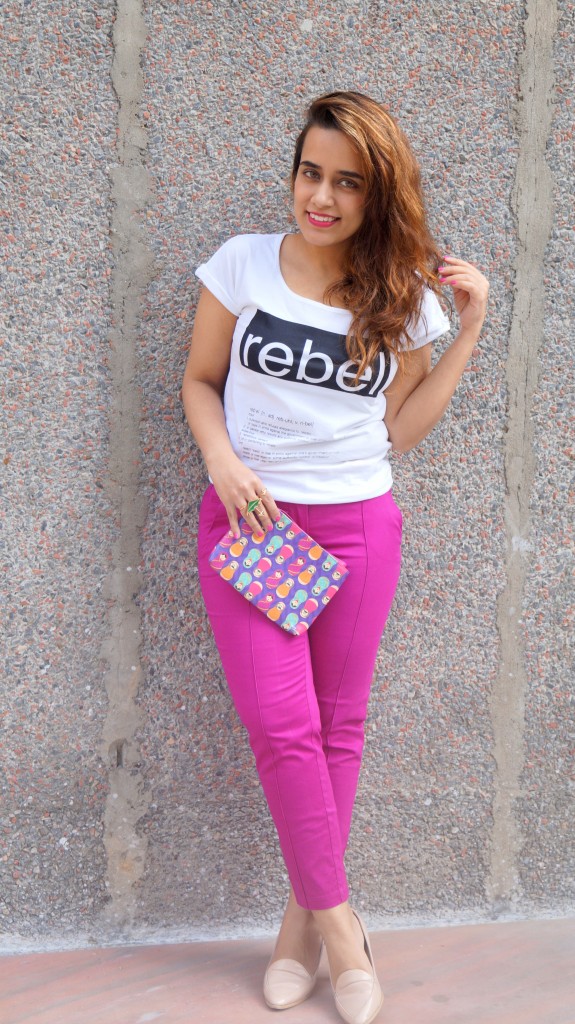 For evening, the outfit was exact same as in the morning. I did remove the trench because it was pleasant and I was dying to show my Rebel tee to the world. I usually never do white shirts, but when I do I make sure they are as awesome as this one. Slogan tee shirts are so IN again this year. They make a statement in their own kickass way. I prefer a small word/slogan as compared to a long sentence when it comes to slogan shirts to avoid the slightly long stare than the normal one I am used to.
I opened my hair, added my new favourite ring and this cute little doll bag for the evening. Coming to this bag, it is actually a pouch which was holding my toiletries and also doubled up as my evening clutch. Now you get it, when I tell you guys how awesome India Circus products are. They are multi utilitarian and have such strong but amazing Indian prints. They just amped up my simple outfit and made me look as I have put in a lot of effort. I like bags which makes me look that I have put in effort, which in reality is my toiletries pouch, so can travel light, really light.
Also, you check the India Circus site here. And check my previous post on India Circus here.
Trench Coat – Paris, similar here     |     Pant – Only, similar here & here   |     Tee – Myntra, Sold out – Love this here & here    |
Shoes – Similar here & here |       Ring – Love Wins, Outhouse Jewellery |    Earrings – Mumbai    |
India Circus Sling – Buy here |   India Circus Pouch – Buy here   |