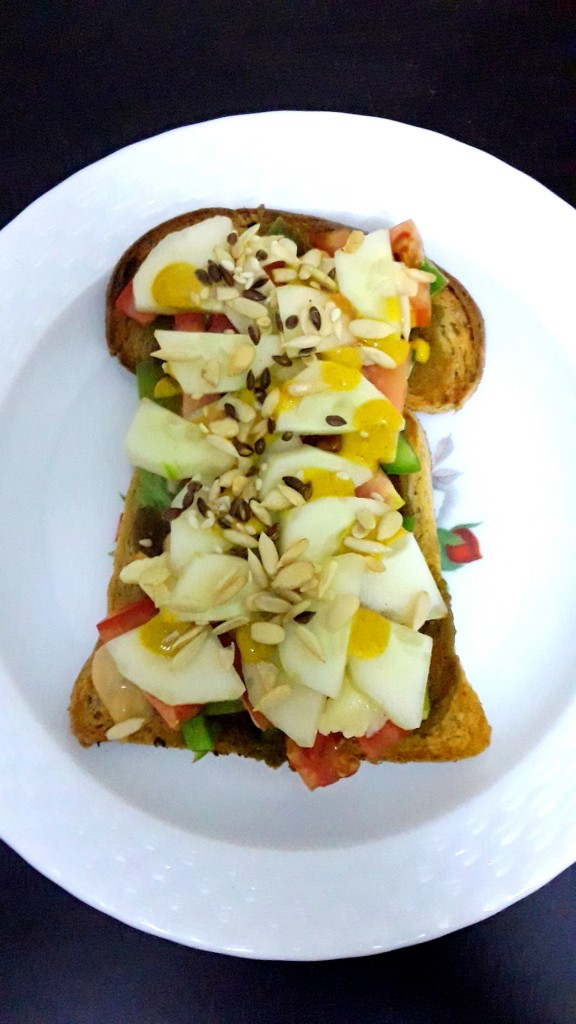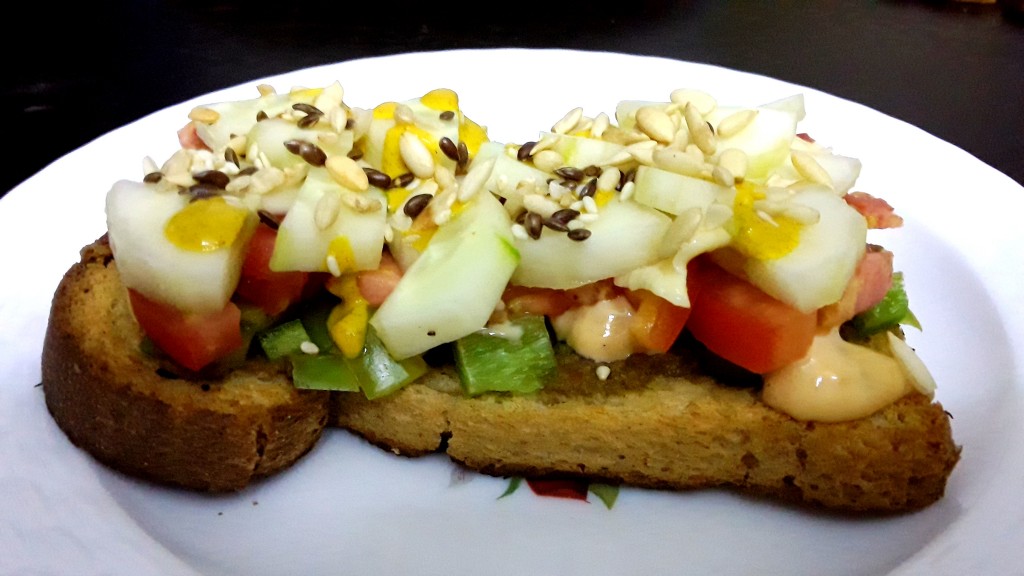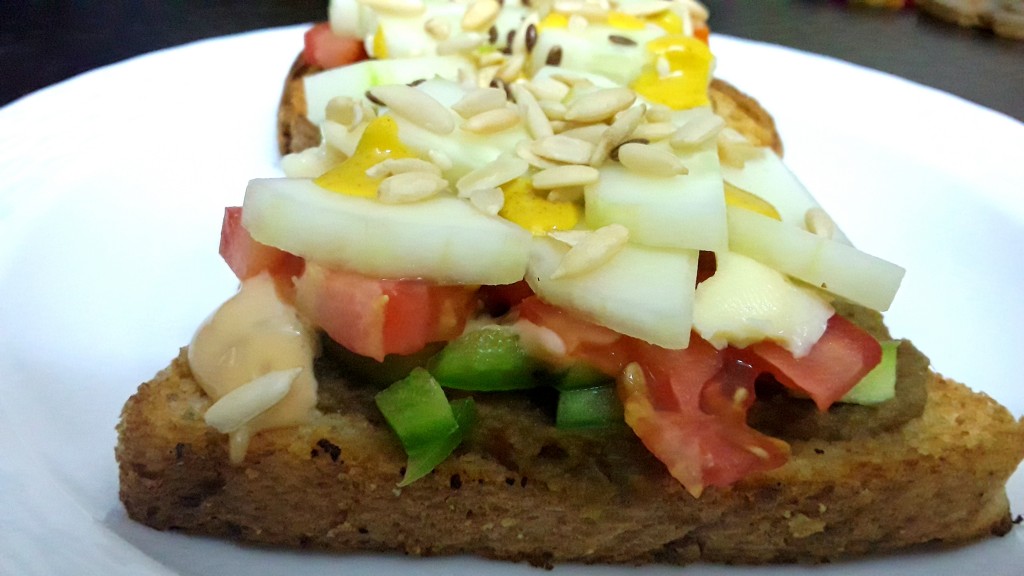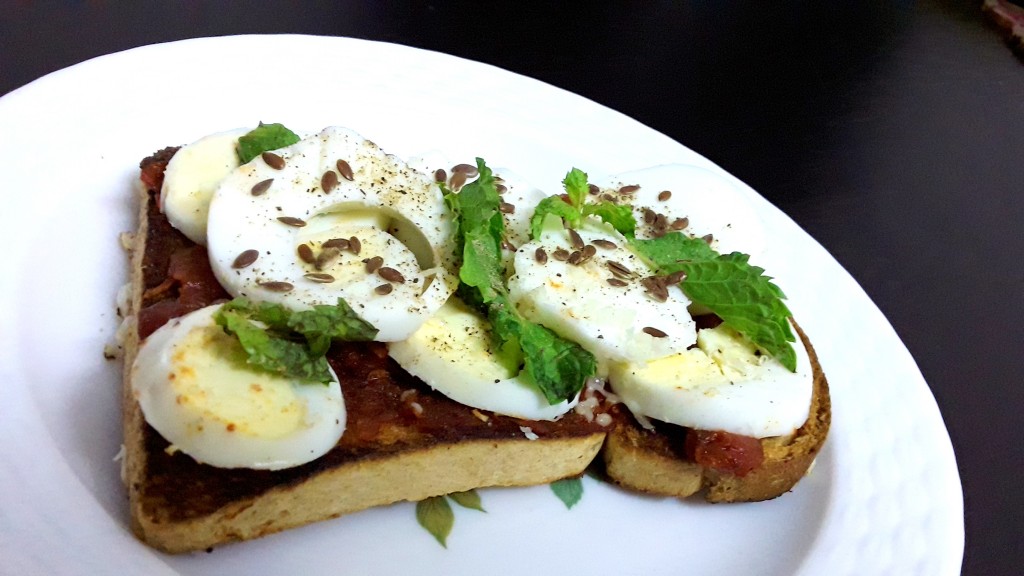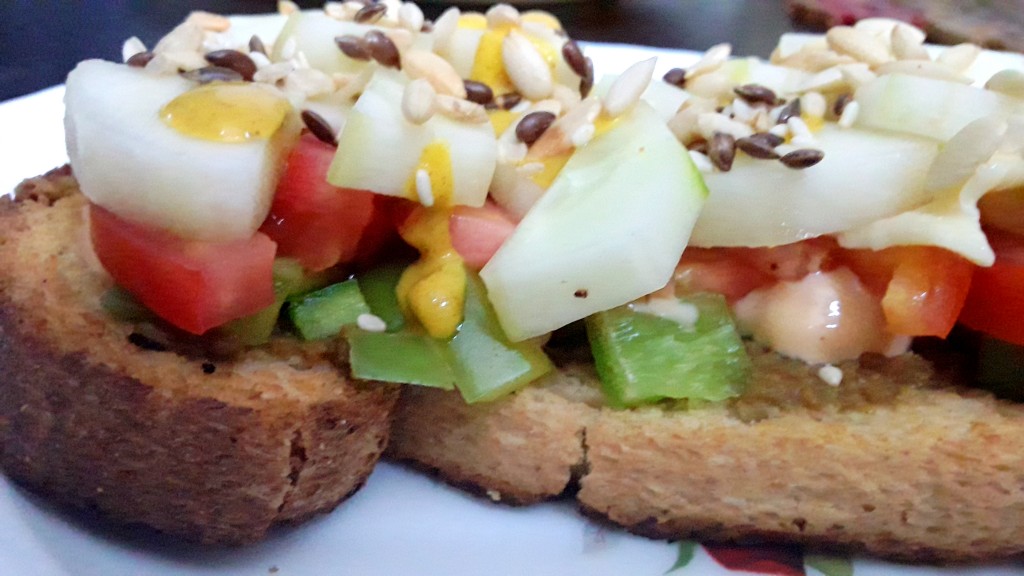 And the final day of our 30 day WinnerDinner challenge is here. I wanted this to be simple and something realistic. I am sure you guys now have enough options to choose healthy over anything else ( 3o freaking options people!)
You know one of those days when you are too tired after work and still want to consume a slightly healthier option. You don't want to order because it will take at least 30 minutes, and you ain't got time for that. Yes one of those days! Then you choose bread. All of us have bread always in the fridge and it's a perfect quick food which can be healthy too with right kind of toppings. I know the hoopla surrounding the good old bread these days and you must be wondering what's wrong with her (you mean me). Well for starters, everything we eat and drink has more of toxins and less of nutrient if I go by the news. And we are basically surviving on toxin these days, pun intended. Well just to be on the safer side, let's buy the bread from the local bakery, rather than from a particular brand. I am sure the brand might kill us, but the bakery? Naa. The baker uncle is too cute to even think about it.
You can see two different kind of sandwiches here. Yes, I gave two options for vegetarian and eggetarian people respectively. Open sandwiches are my thing and I might sue you over copyright issues if I see no credits when you make them. Haha joking, not!
Open Sandwich
with Veggies:
Put homemade Mint chutney over a toasted piece of bread
Put 3 layers of veggies for maximum nutrients( I pur raw capsicum, tomatoes, cucumber)
Top it up with sunflower, pumpkin and flax seeds.
with Eggs:
Put Homemade Tomato sauce over a piece of bread
Cover it up with boiled egg/eggs with the yolk. I can't throw away food ever(Yolk is a good fat, throw that burger)
Top it up with flax seeds and fresh mint leaves.
– There are as many ways to make open sandwiches as there are stars in the sky. Just be creative and enjoy the process.
– If you have any food related queries/questions/doubts or just want to say Hi, Please feel free to
Mail me – shadesofmoonie@gmail.com
Snapchat – Shadesofmoon
Instagram – Shadesofmoon
Twitter – Unheardmoon
Wishing you all loads of love, health and happiness!
<3