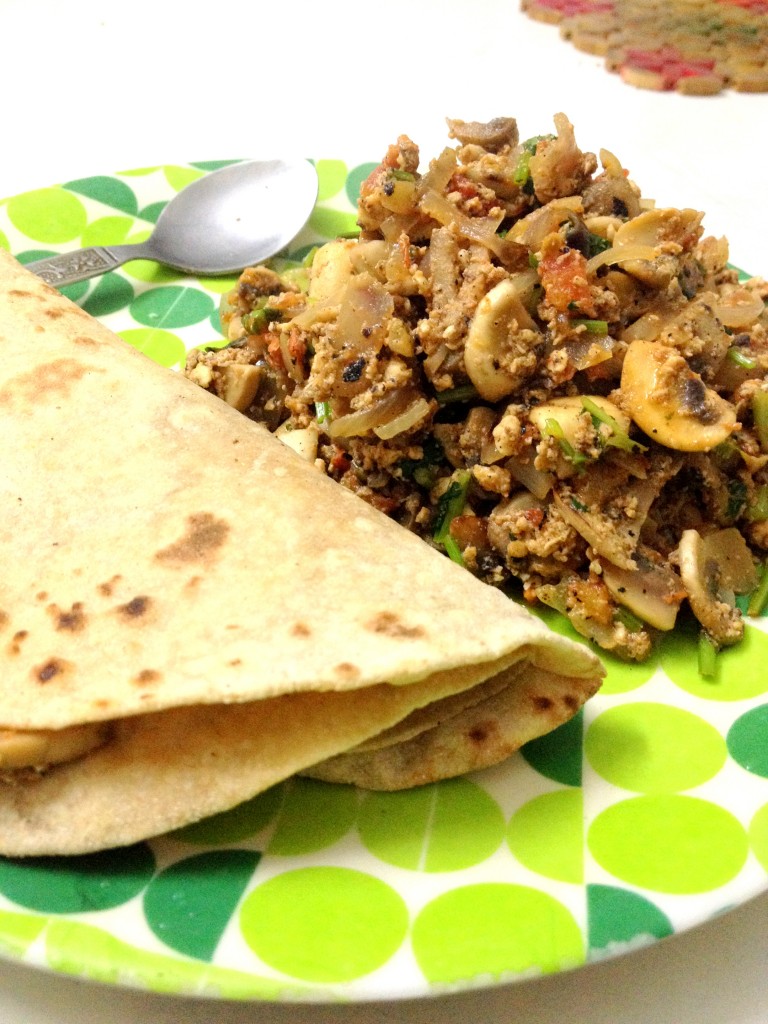 When you grow up with Doctors all around you, then conversations at home might be weird for a third person. Like, whenever I eat mushrooms, my brother keep blabbering that how a fungus can only love a fungus. Basically my eyes ( are fungus colored to him) and mushroom as is one.
I don't really remember how my love for mushroom started because no one at my place have liked consuming it in any form. It is a boon for me as I don't really have to share it with anyone then. Though, now forcefully my family have started to enjoy the gorgeous fungi every now and then.
Let's talk about my dinner from yesterday:

Scrambled eggs with Mushroom  
– 2 eggs per person ( with the yolk, it's a good fat) – Or 250gms of Soy granules if no eggs for you.
– a packet of mushroom ( must be around 12-16 )
– Tofu
– Coriander( lots of it)
– Scramble the eggs in a hot non stick pan or wok
– Add sliced mushrooms and Tofu
– Season with salt, pepper
– Add lots of coriander.
– Eat with 2 roti's
* Mushroom is very very safe and have a lot of health benefits. They are the leading source of the essential antioxidant Selenium.
* Mushrooms are,
– low in calories
– fat-free
– cholesterol-free
–  very low in sodium
and yet they provide important nutrients, including
–  Selenium, Potassium, Riboflavin, Niacin, Vitamin D
Check out Day 1 recipe here.