The best thing about living In Delhi is that there are so many getaway options around which are only few hours away from the city. Basically we can leave on a Friday and come back to our work feeling fresh on a Monday morning. So when the opportunity to visit Sandal Suites came, I was beyond overjoyed. I asked (begged) my parents to join me as all three of us deserved a break looking at our crazy schedules.
It was an almost 90 minute drive from our place and we reached Sandal Suites around lunch time. So before checking in to our rooms, we preferred to have our lunch first. The amazing Chef Gaurav showed us around Citrus cafe (where we had our lunch) and we had a hearty meal from the buffet.
Now coming to our rooms, we stayed at the Deluxe suite, which comes with a living room with a dining area, a fully equipped kitchenette (they had tea/coffee maker too and a microwave), bathroom and a bedroom. All rooms come with an attached balcony. As there were 3 of us, we had an attached Studio suite to the main suite. Studio suite comes with a room, washroom, balcony and a kitchenette but no living room. There were fresh fruits and a Cheese platter waiting for us when we checked-in to our suite.
My favourite part of our suite was the abundant natural light. I thought we were lucky to have got a sun facing room. But after talking to the General Manager, Mr.Avinash Sehrawat we got to know that each room have been designed in such a way that they would get a lot of natural light all through the day. I don't know about you, but I feel extremely positive and calm if the place I am staying is naturally lit.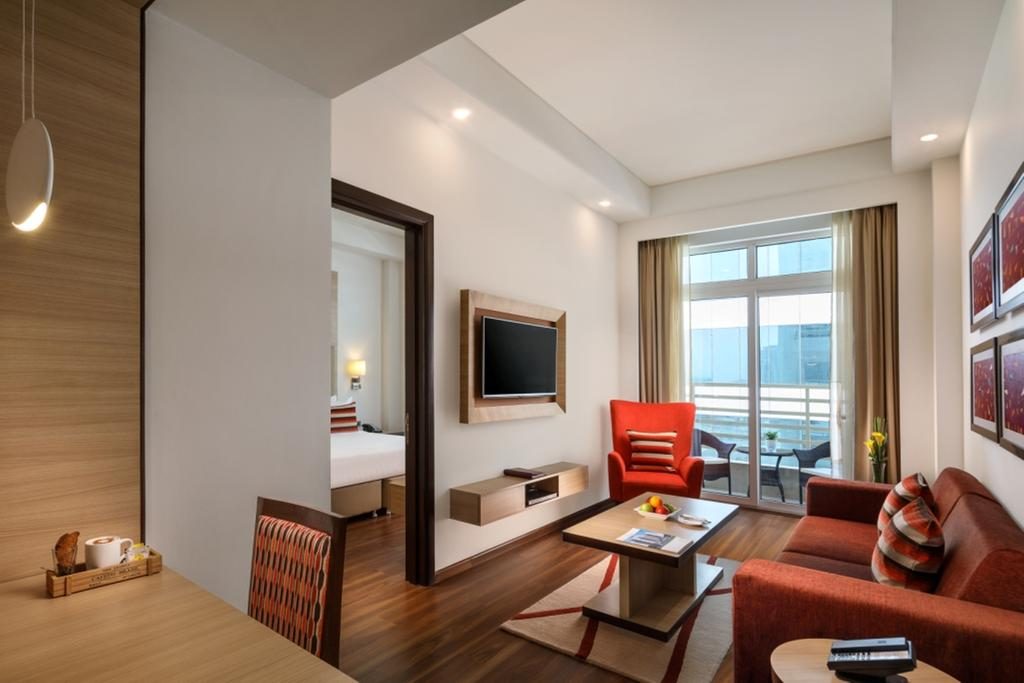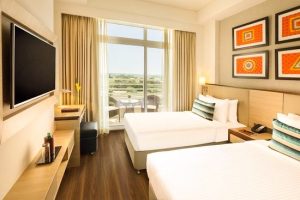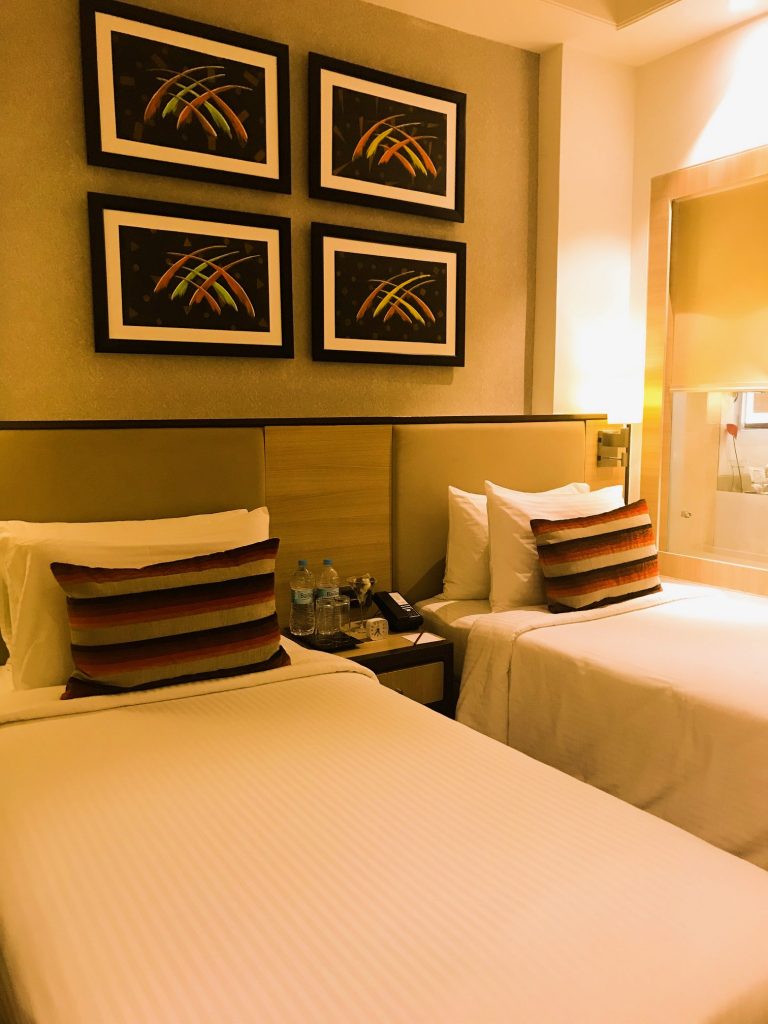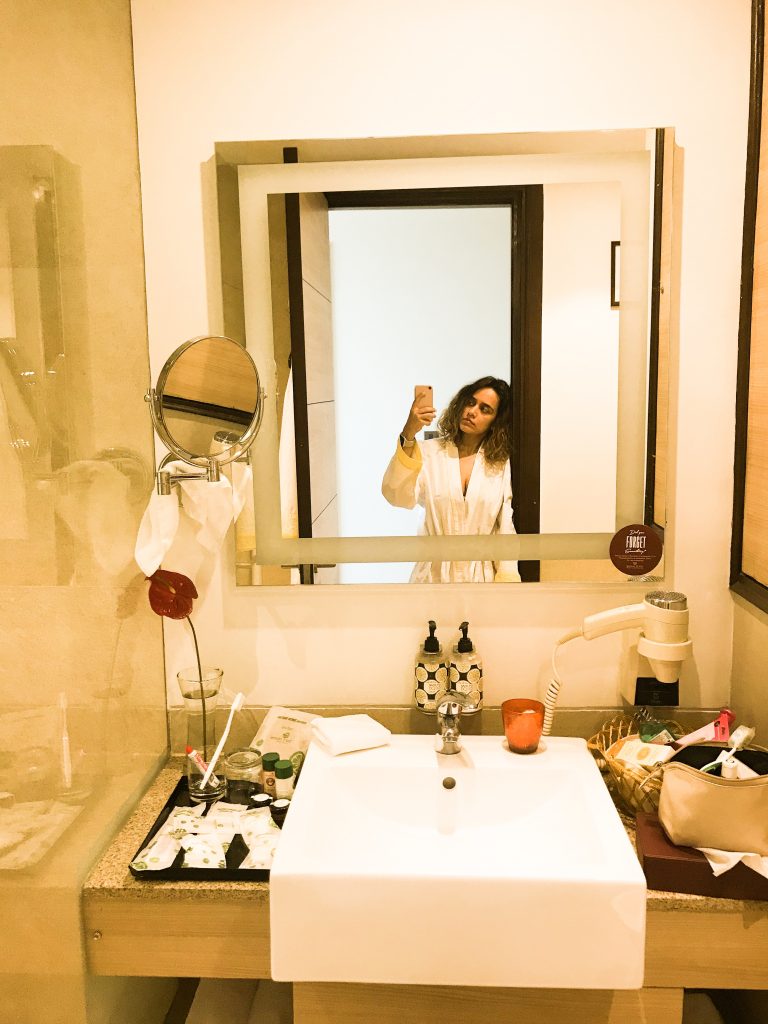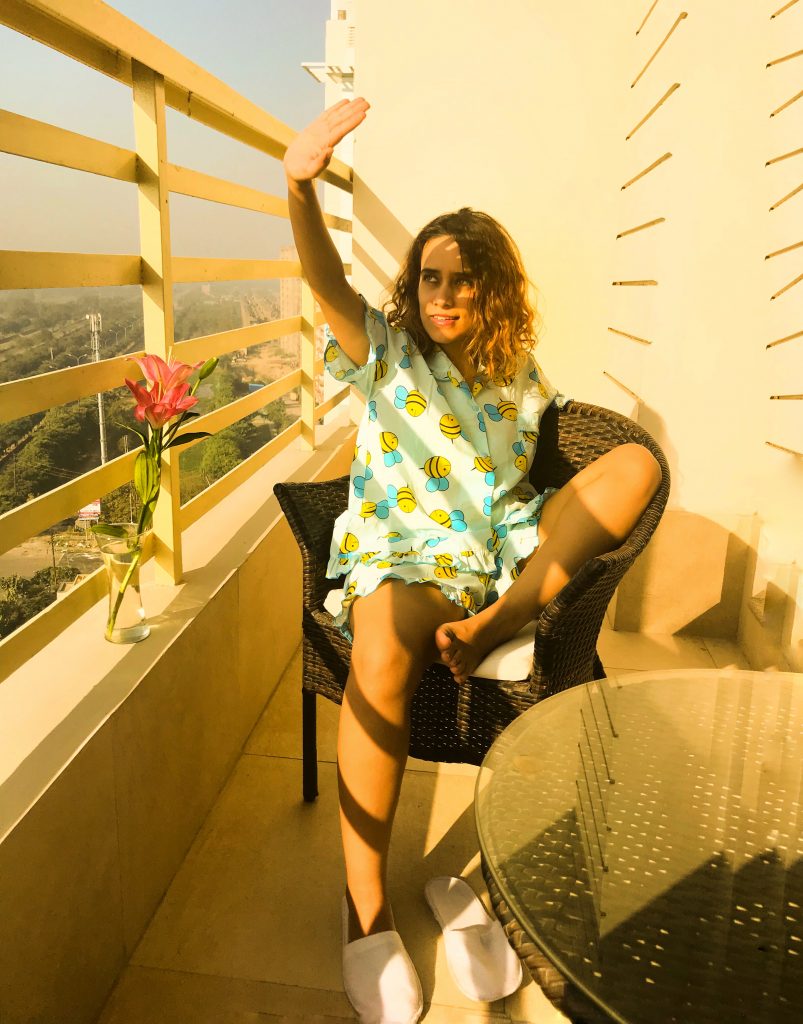 In the evening, my Mom and I planned to visit their Kiyomi Spa. I choose their classic Abhiyangam massage for my muscles to relax and my mom opted for Gold facial. Both our procedures took about an hour or so and I felt extremely relaxed after my pressure massage and steam session. My mom was quite impressed with the facial and the polite staff.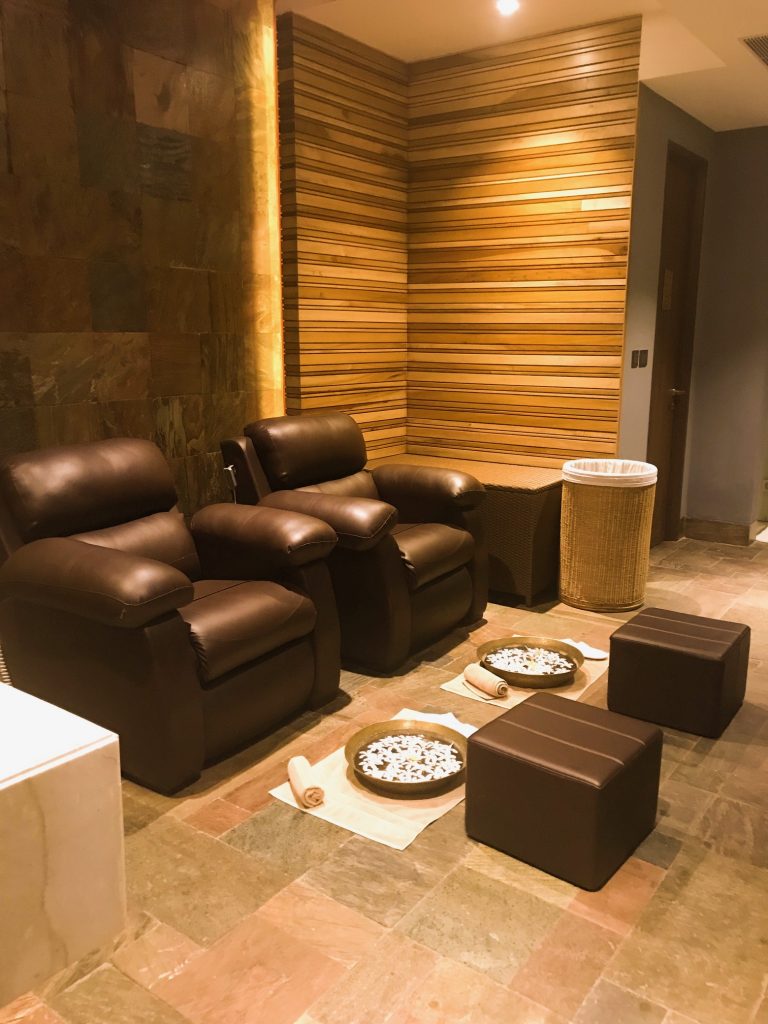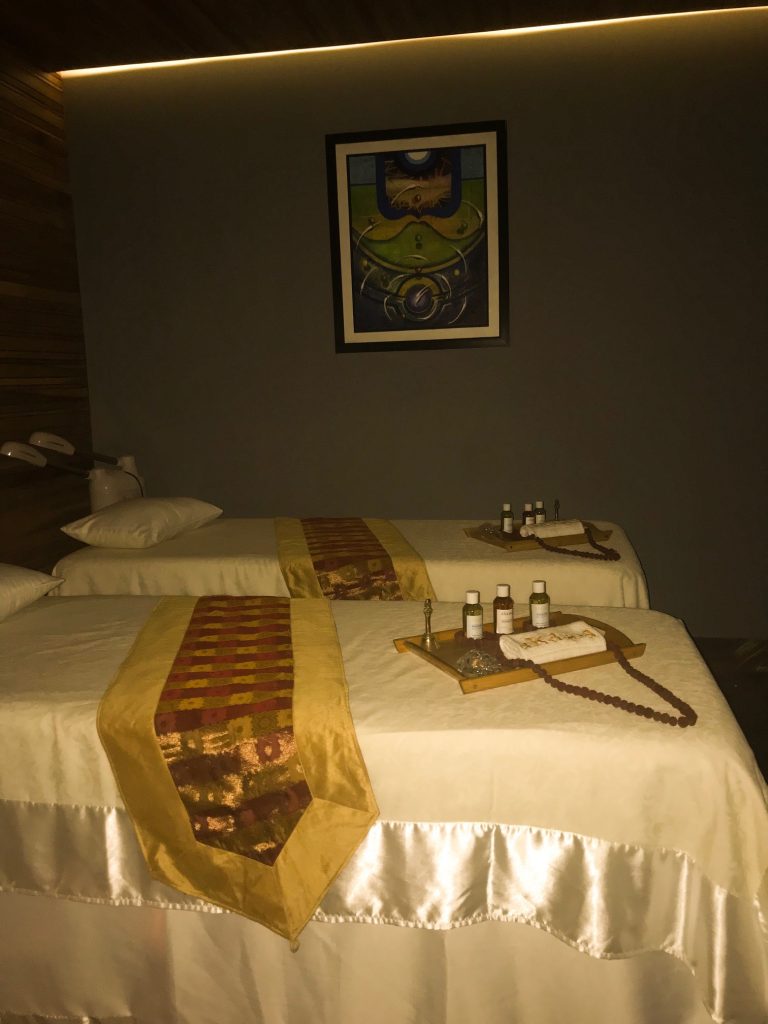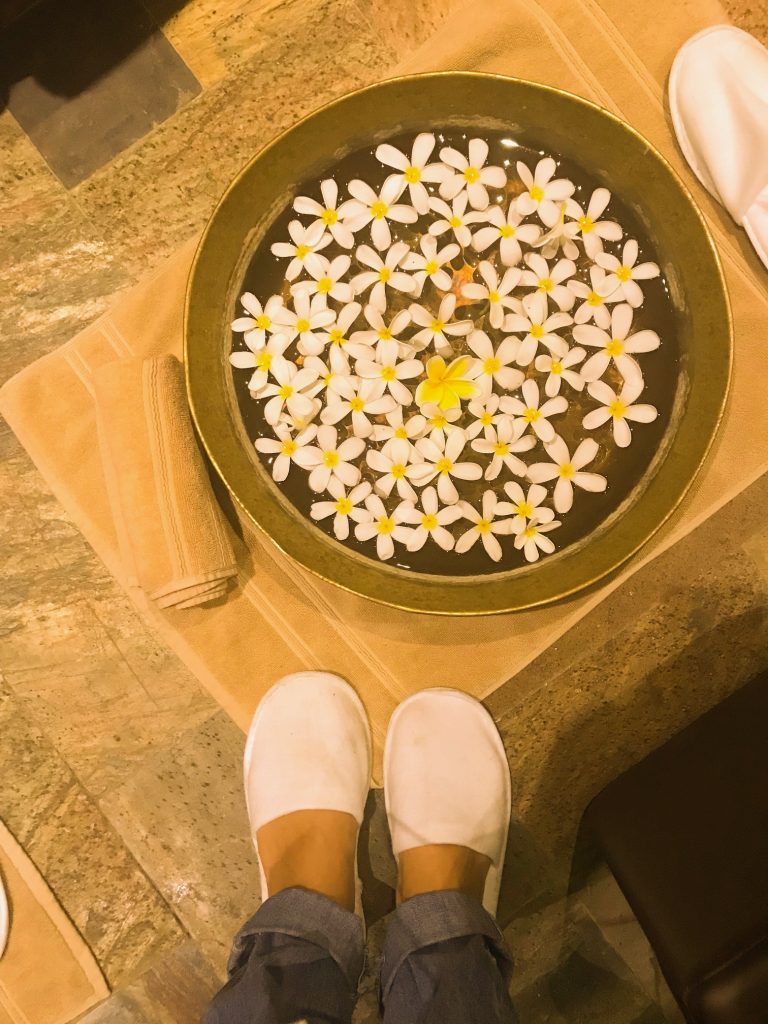 Getting back to food, for our evening tea and dinner at Citrus Cafe, Chef Gaurav served us some amazing spread. With tea, we had some delicious Savoury and sweet snacks. For dinner, I had the classic and my absolute favourite Salmon with Quinoa. I can go back there and eat this dish 100 times more. My parents enjoyed a spread of Mutton Biryani, Chicken dishes and the Cheesecake. My dad loved the Mutton. And if he says it's nice and tender, then it IS yum.
For drinks and snacks, there is Britters Bar to your rescue. The cool interiors and music add up to the charm and you sure will have a delightful time. The awesome Garima (from Sandal suites) and I had a great time here chatting and drinking after the dinner.
The next day all our meals were by Chef Amit Notiyal. We had some yummy-licious North Indian food. The famous Non veg platter and Chicken naan was an experience in itself.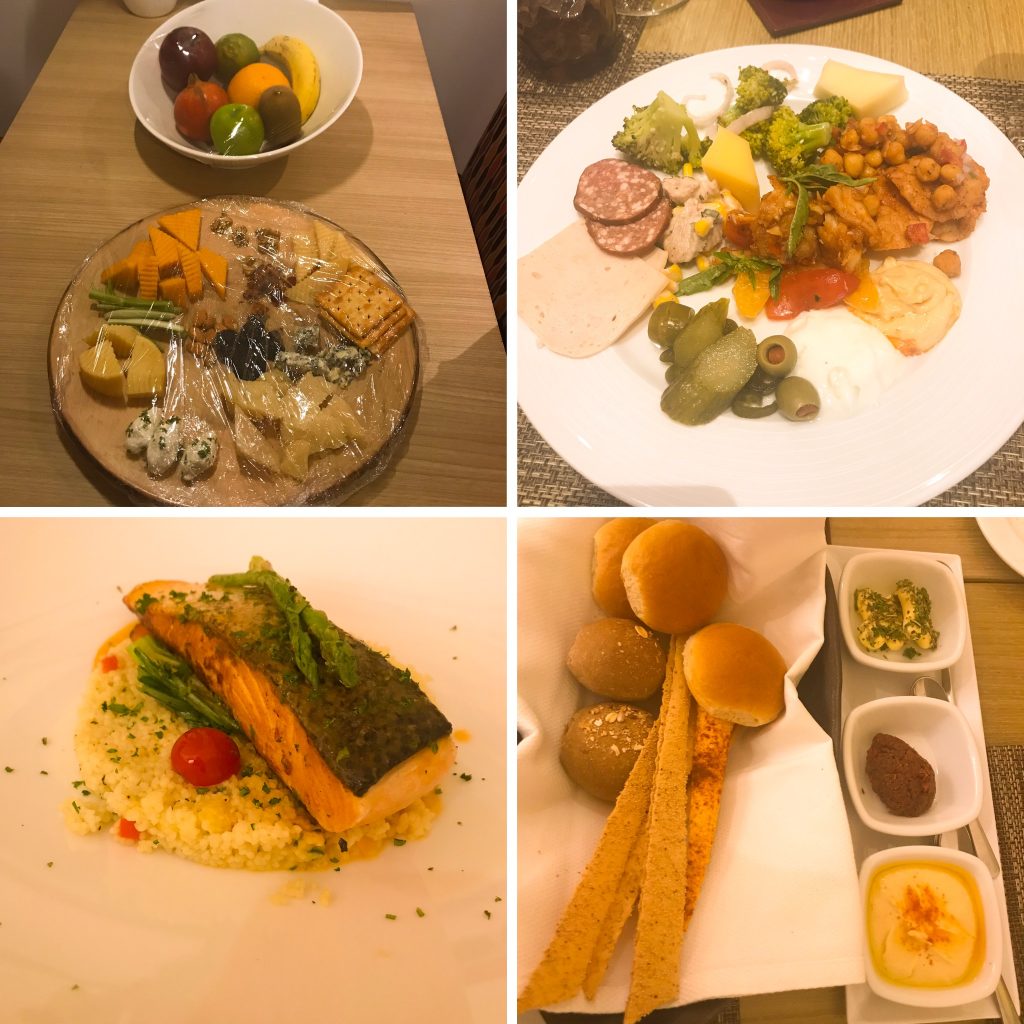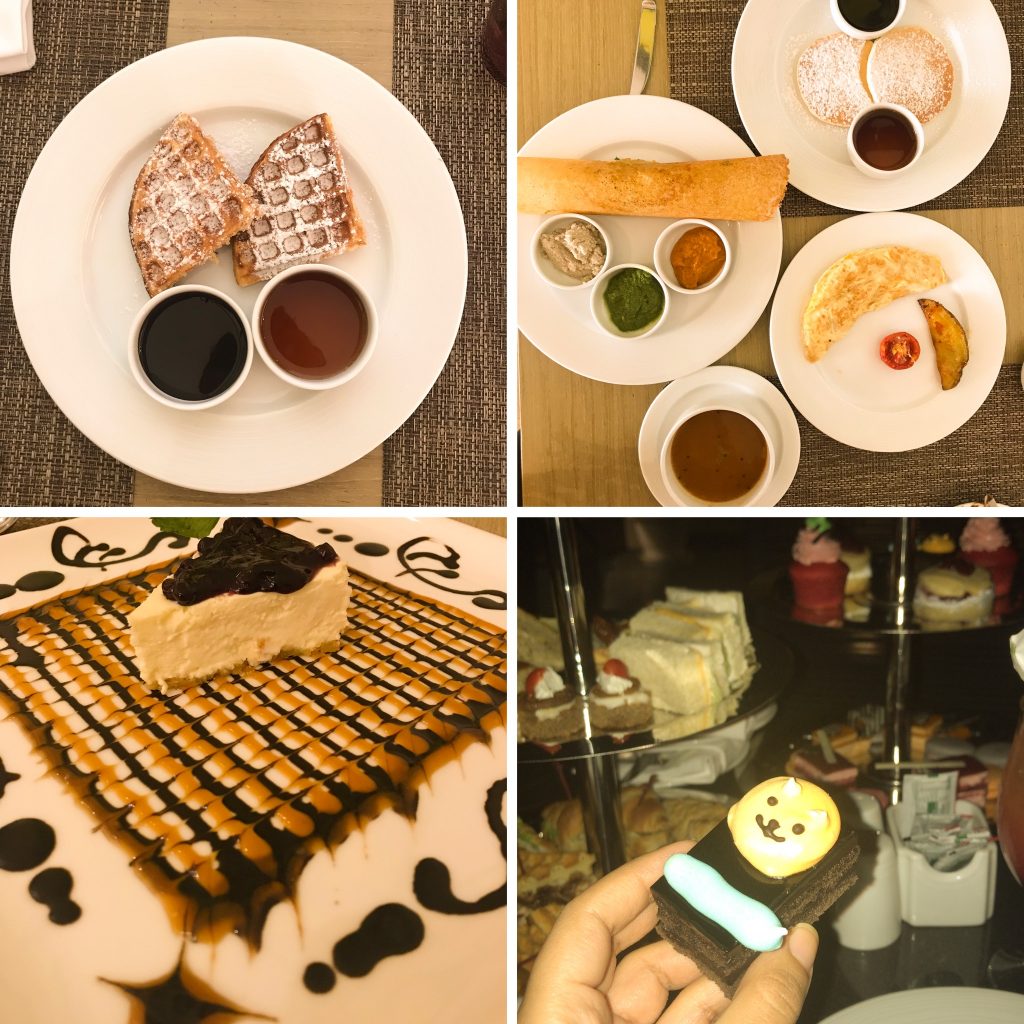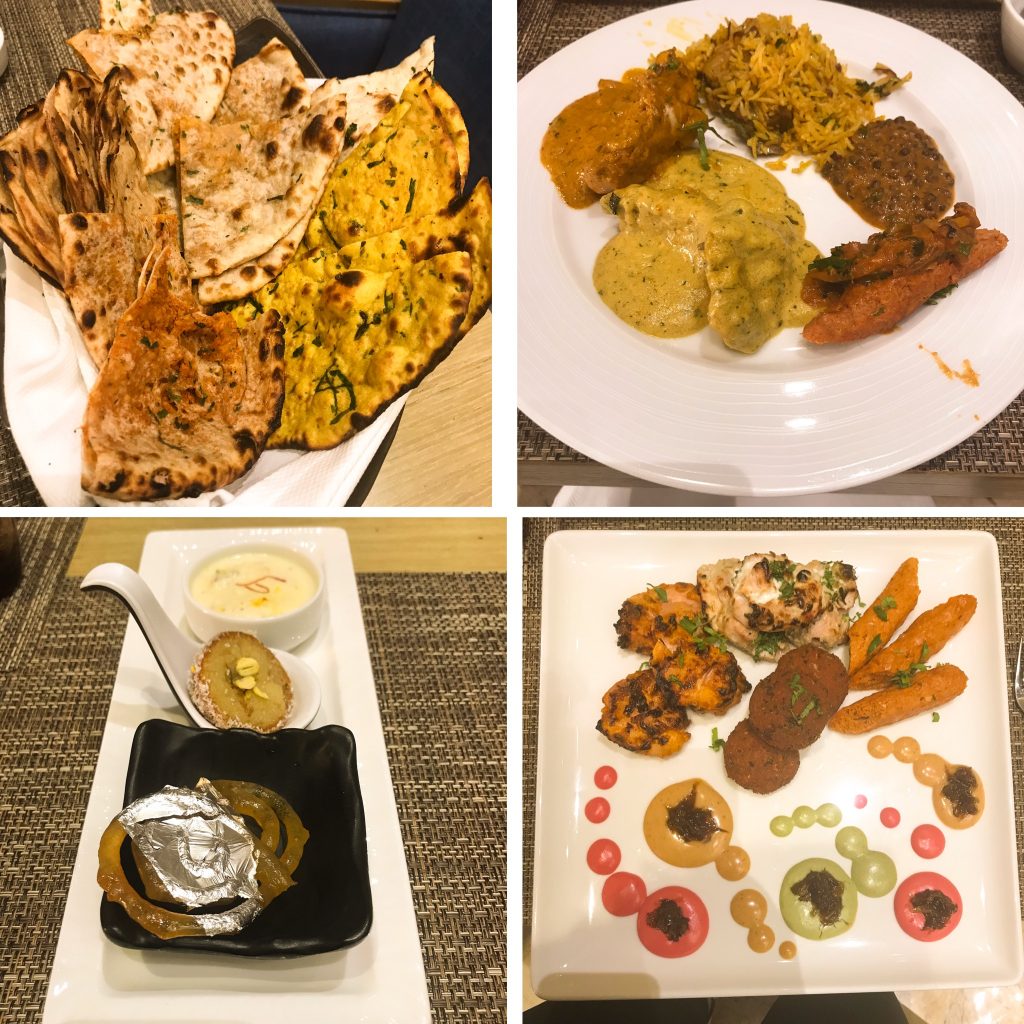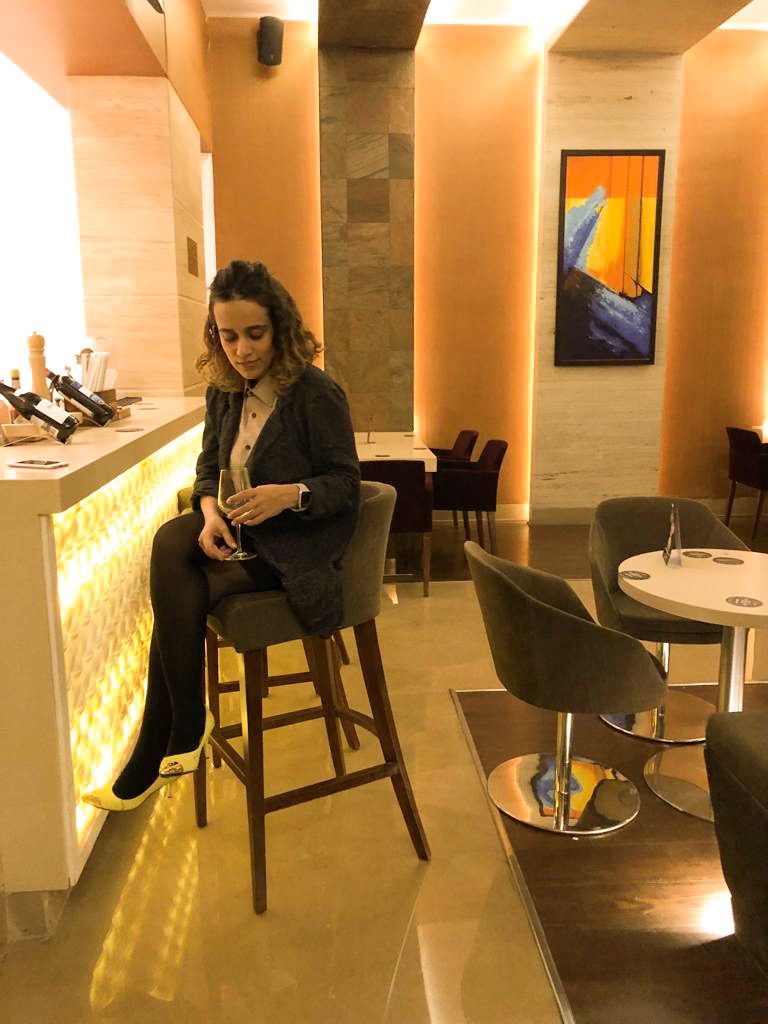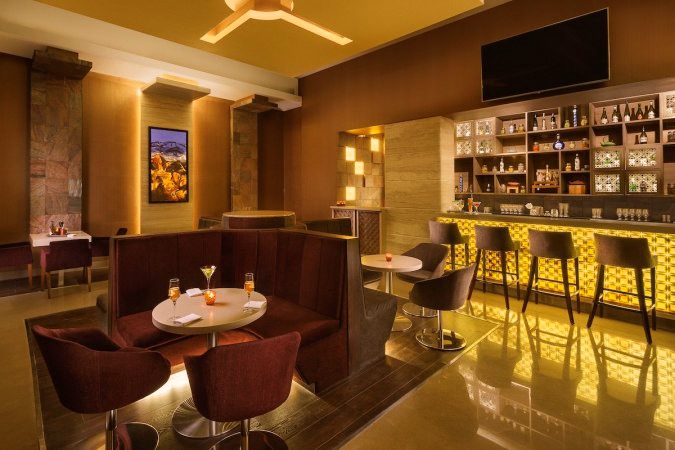 After the food, comes the task of burning it. I was dying to visit their Gym and finally I did it the next day. The gym at Sandal Suites is fully equipped with all the machines and weights. If weight training is not your thing then there were also Yoga mats, Swiss ball for the good old stretching.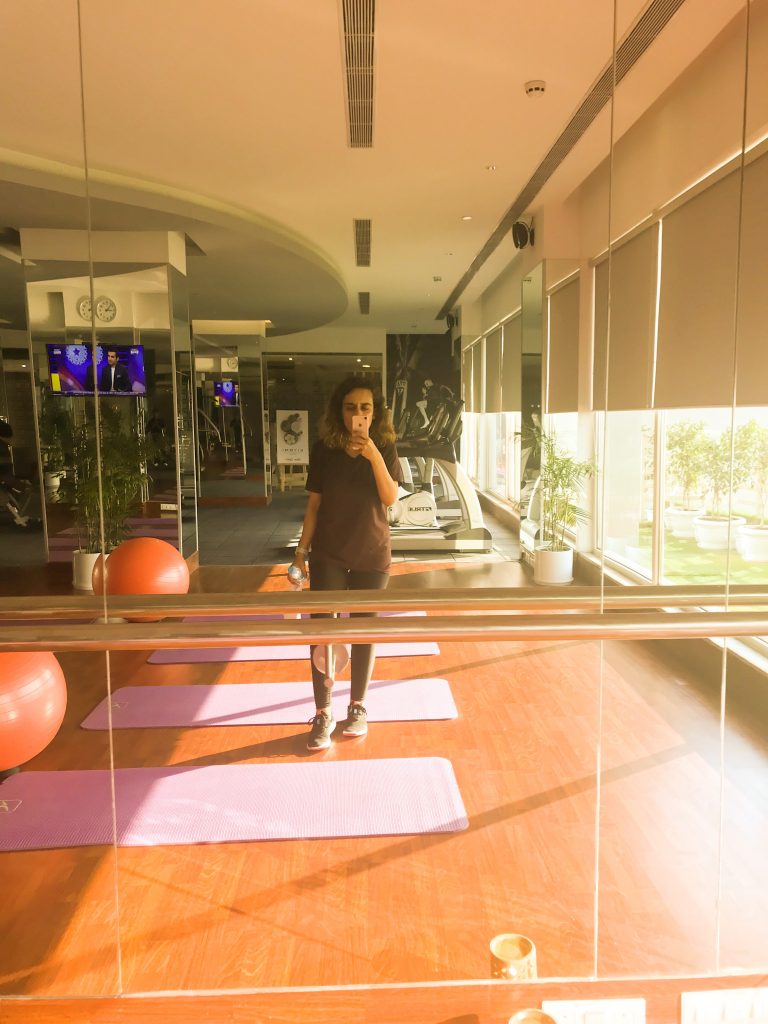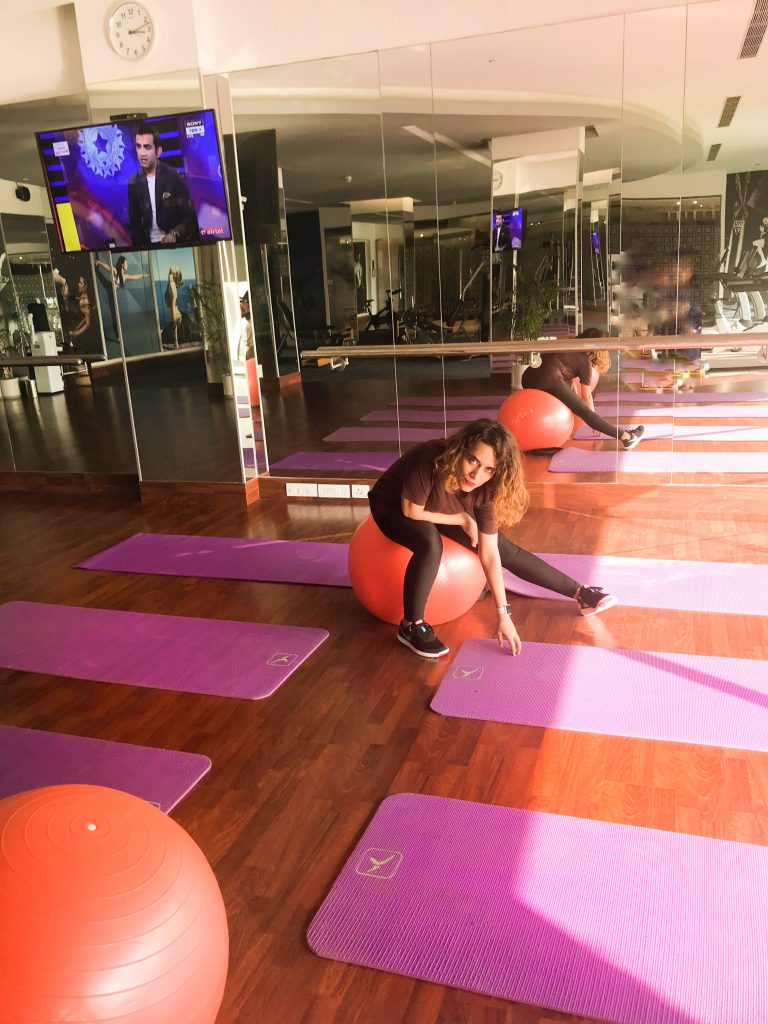 And if Gym is not on your list, but you would like to stay active then there is this awesome Activity Room in the basement. It has indoor games like Chess, Table Tennis and a full sized Squash court. My brother and I used to play this game every day back in the day, so I got a little excited. Probably this the only time in my life that I missed my brother.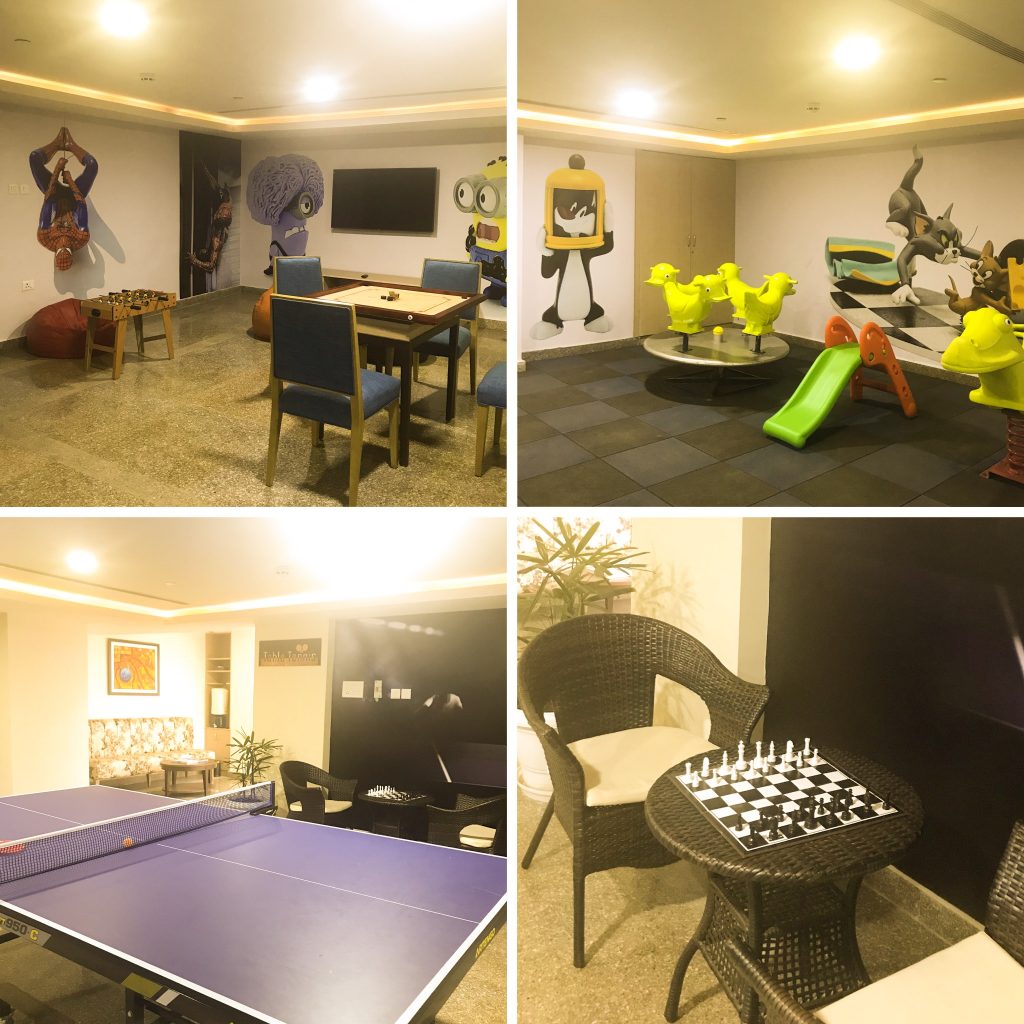 And if you think it's all over, then you are wrong my friend. They had this beautiful rooftop Infinity Pool which was an absolute favourite. We had our high tea there. I even came here the next day for a swim on a sunny winter-y morning. It's a beautiful setup with recliners, chairs, a little bar area and ample space to just chill.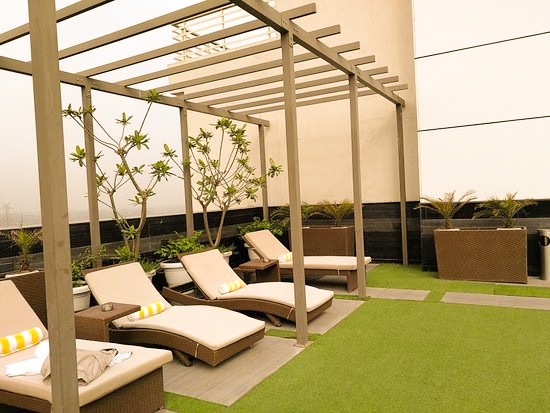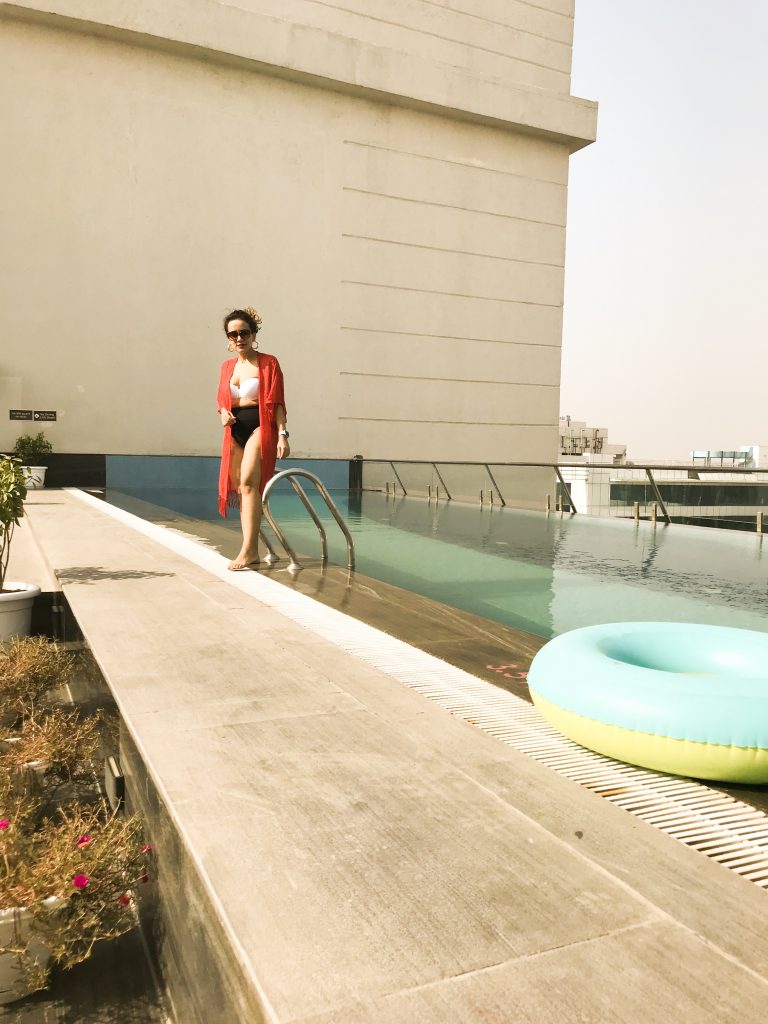 I also got the chance to catch a glimpse of the Presidential Suite, which is still under construction. If you are looking for a full family outing and need bigger space then this is your thing. I am talking huge living room, fancy washroom, lavish walk-in closets and a kitchen.
Just wanted to add this –
As those of you who know me knows that I am not much of an Art lover. But the Artworks at Sandal Suites were simple yet intriguing so I had to ask about it's whereabouts. They were quite unique yet simple.
So I got to know that Lemon Tree Hotels supports poor tribal craftsmen in Bastar, Madhya Pradesh region. By purchasing, in large volumes, tribal art from these craftsmen and allow the chain to showcase their art extensively across its hotels. It is also a supporter of art object, promoted by People of Animals ('PFA'). The funds of which are used by PFA towards it's initiatives for the welfare and care of animals across India.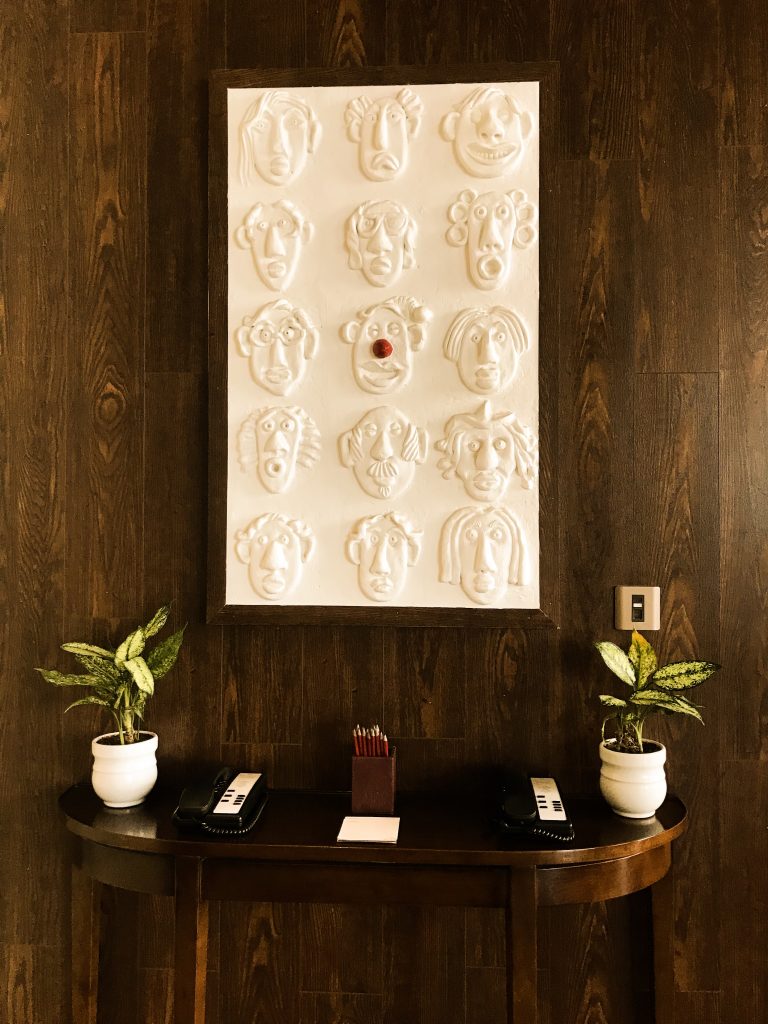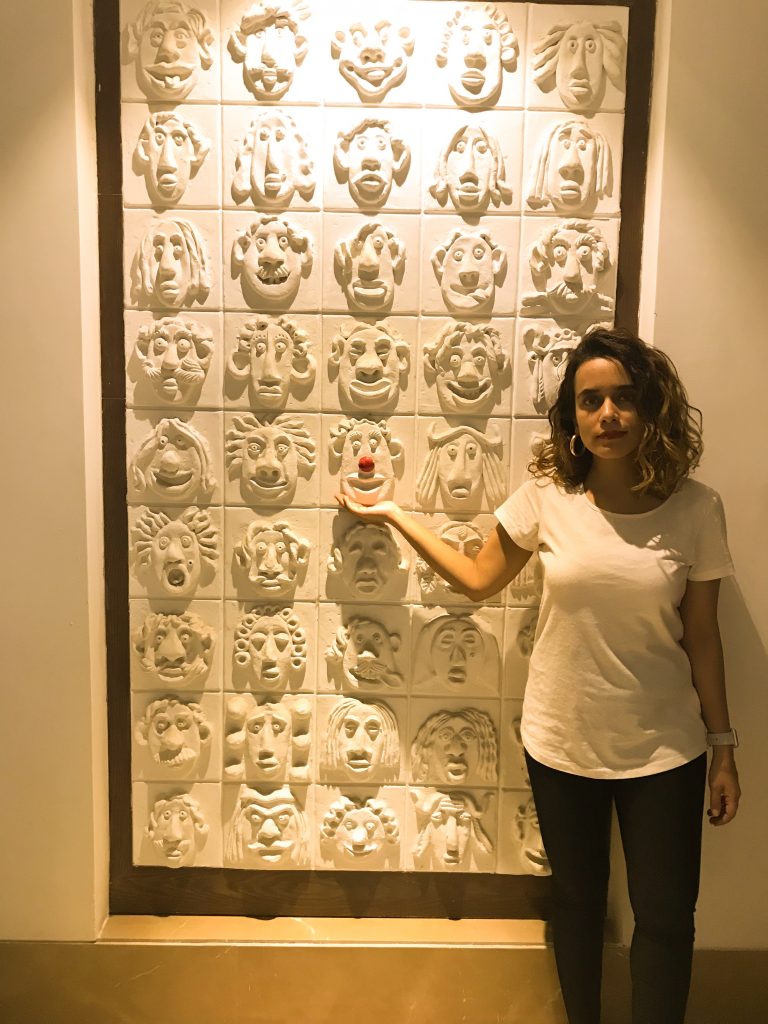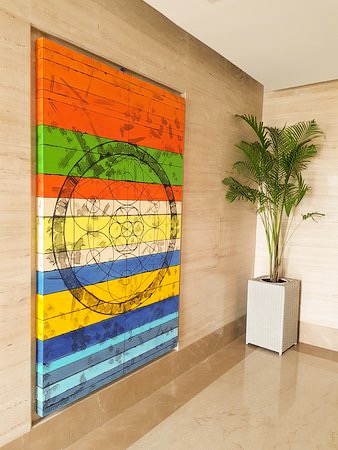 There are also meeting rooms and party hall in the premises of Sandal Suites which are huge. So next time you are looking for a place for that team meeting in Noida, you know where to go. My parents loved the ambience, food, the polite staff and they sure had a relaxing weekend.
For more information, check here.