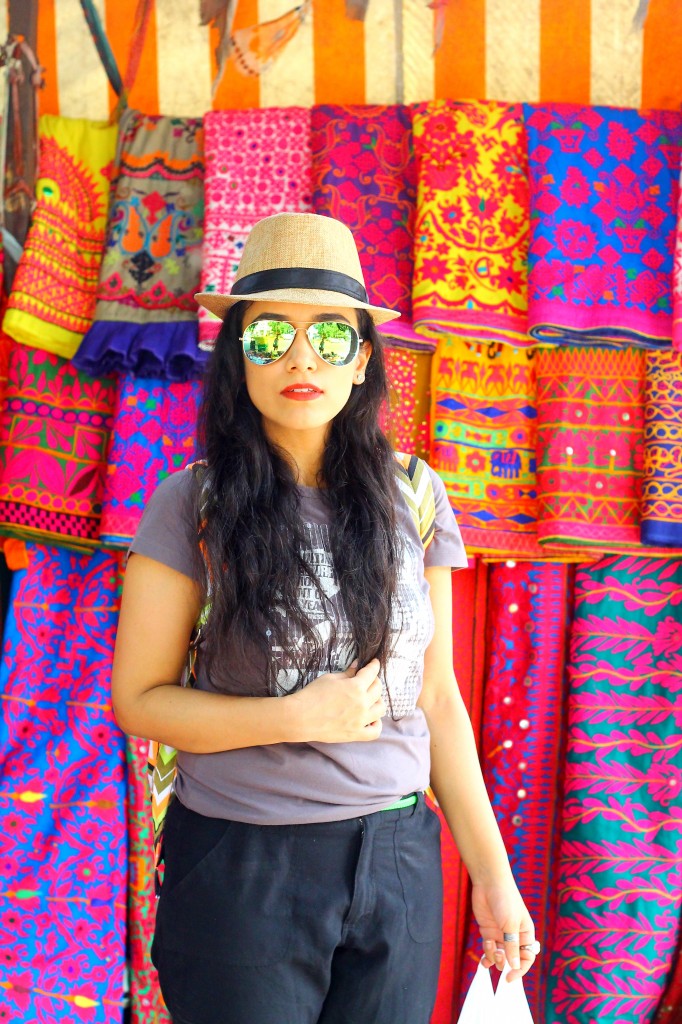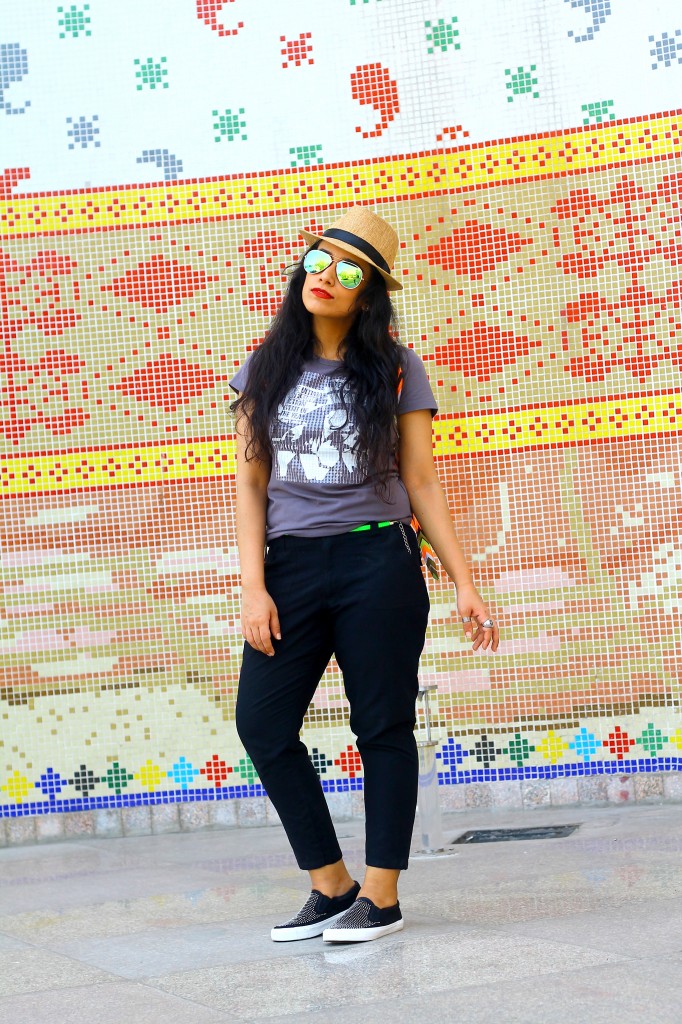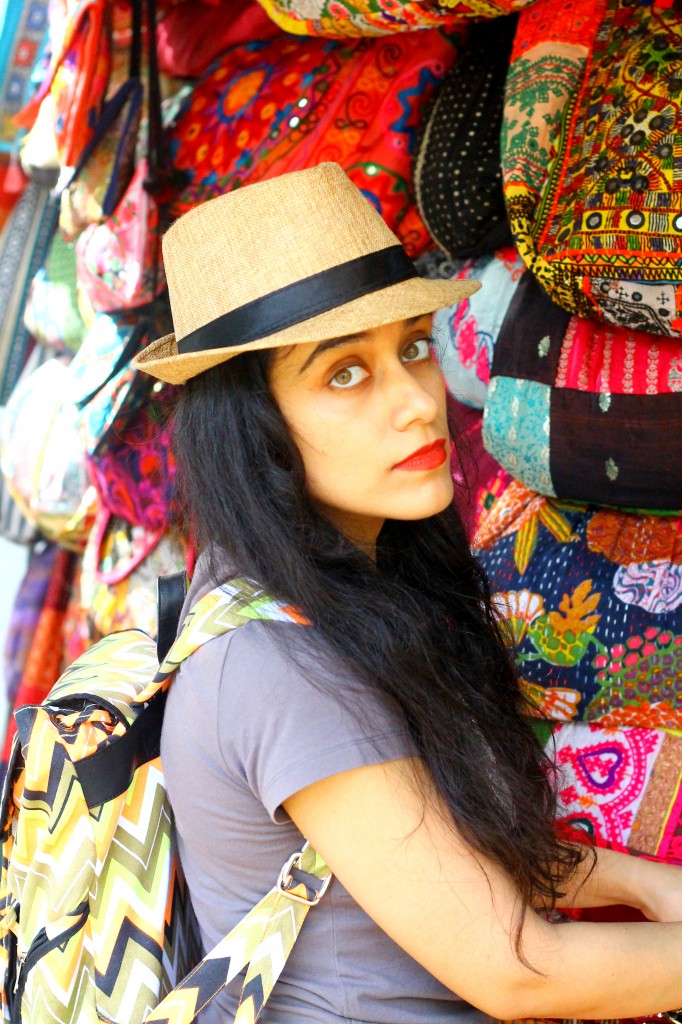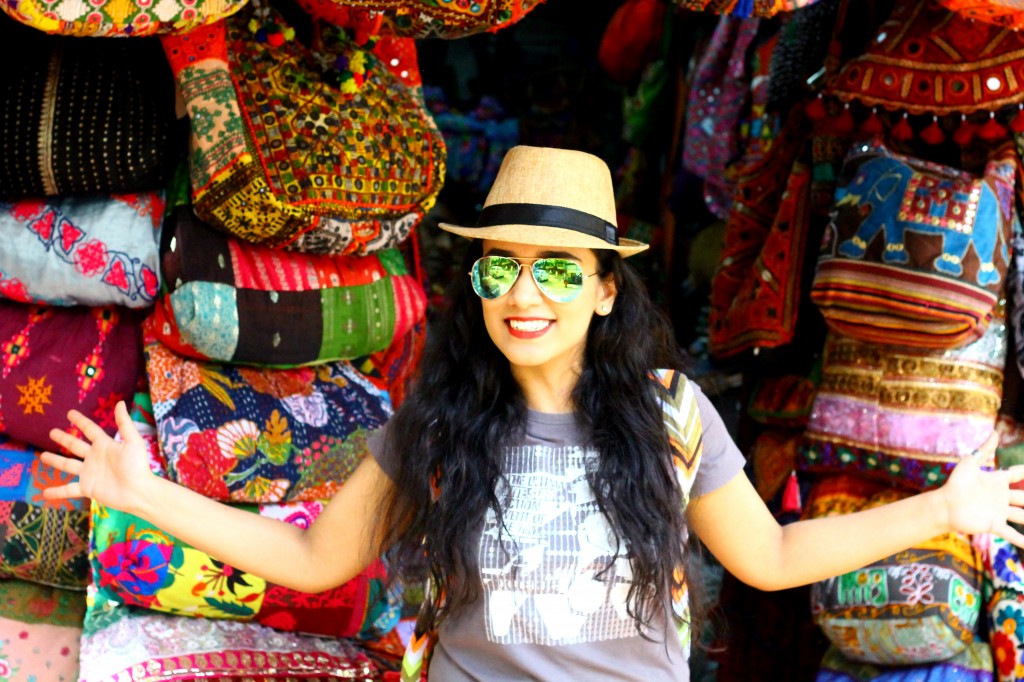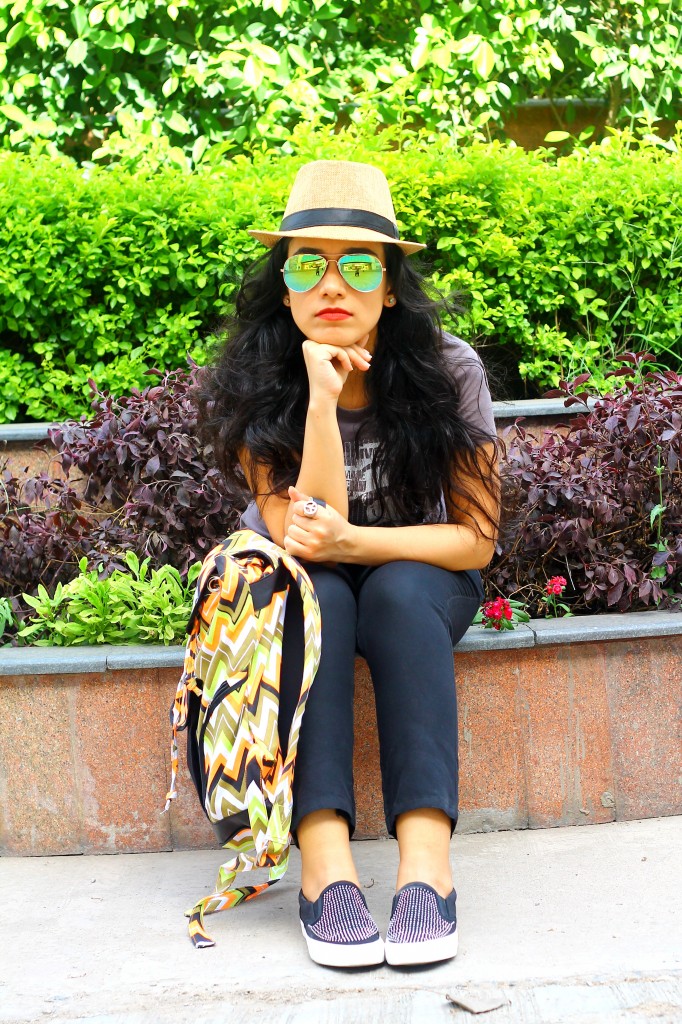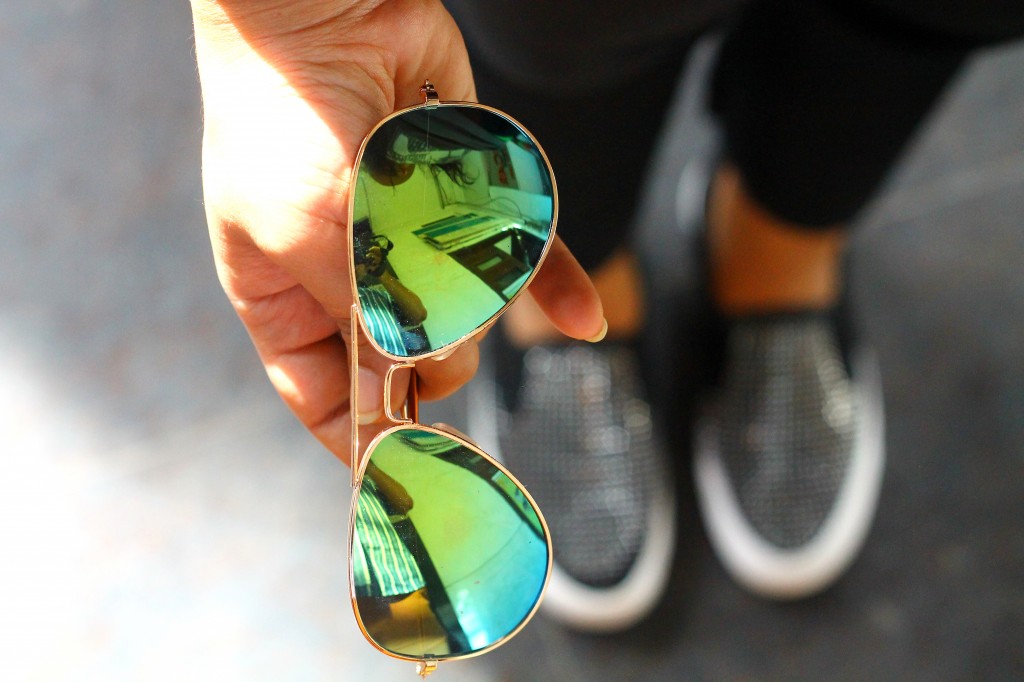 Sometimes my monotonous routine gets the better out of me. It makes me cranky and irritable. It's a kind of time where nor I can take a leave neither I have my weekends free to plan for a short gateway.
What do I do then? Well then I wear my hat, put on some lipstick and explore my city in the most comfortable set of clothes.
Delhi might look quite tiny (just a dot duh!) in the map, but there is so much to explore when you actually move out and make an effort. I personally love visiting the Planetarium, museums, monuments, zoo and even tiny little colorful lanes selling trinkets that make my heart skip a beat.
This particular day I chose this lane and had my heart set there. They had all sorts of umbrellas and every possible size of colorful bags mankind has ever seen.
Do you like going out in disguise? Talking to people who you would never see again ever? Getting to know them better, asking about their life. These conversations enrich me to the core.
Coming to clothes, I chose to dress in my trusty neutrals head to toe. I added color (obvious much?) with my Aztec bag and Sunnies. I have some serious love for backpacks. I love how it keeps my hands free to go through piles of clothes while shopping or take care of my big hair when the almost blind me in the wind. Backpacks must be made mandatory to use for every girl, only when you use one you will understand what I mean to say. And no they are not to be used only by boys. And no you don't need to be a "tomboy" to use one. With the re-invention of backpacks in bright hues and funky designs plus in sleek styles you will not lose out on your fashion score too; it is a win-win situation isn't it?
I have been wearing and abusing my Plimsolls since the time I got them. I got them sometime last year , I could not wait for them to be launched in India, I am impatient like that, and now have been wearing them pretty much everyday. I got mine from ASOS which is best when it comes to shoes but I just hate the enormous custom duty on products as they ship all the way from UK. Well now you can finally buy them in India and only for you guys, I have found some links from Indian shopping websites where you can find similar products at much cheaper price.
If you are a kind of person who prefer dark or neutrals in their outfits but would want to "experiment" a little with color, then add little hints like I did here in the post as belt, Sunnies and little bit with the bag.
I did go sans any jewellery or accessory apart from the hat and did feel like a complete tourist in my city. Use public transport, read 'real' maps, chuck the Google maps, talk to "locals", shop the traditional handicrafts, this is what comprised of my day off and I can't be thankful enough.
Hope it will push you explore the city. I would love to know about your little fashion story. Feel free to mail me or tag me.
Tee – Benetton  | Pants – Tailor made for Yours truly | Hat – Munnar |
Sunnies – Buy similar here & here |
Bag – Limeroad , this on sold out, many more options here   |
Plimsolls – New Look, ASOS ; buy similar here & here
Photography –   D for Delhi