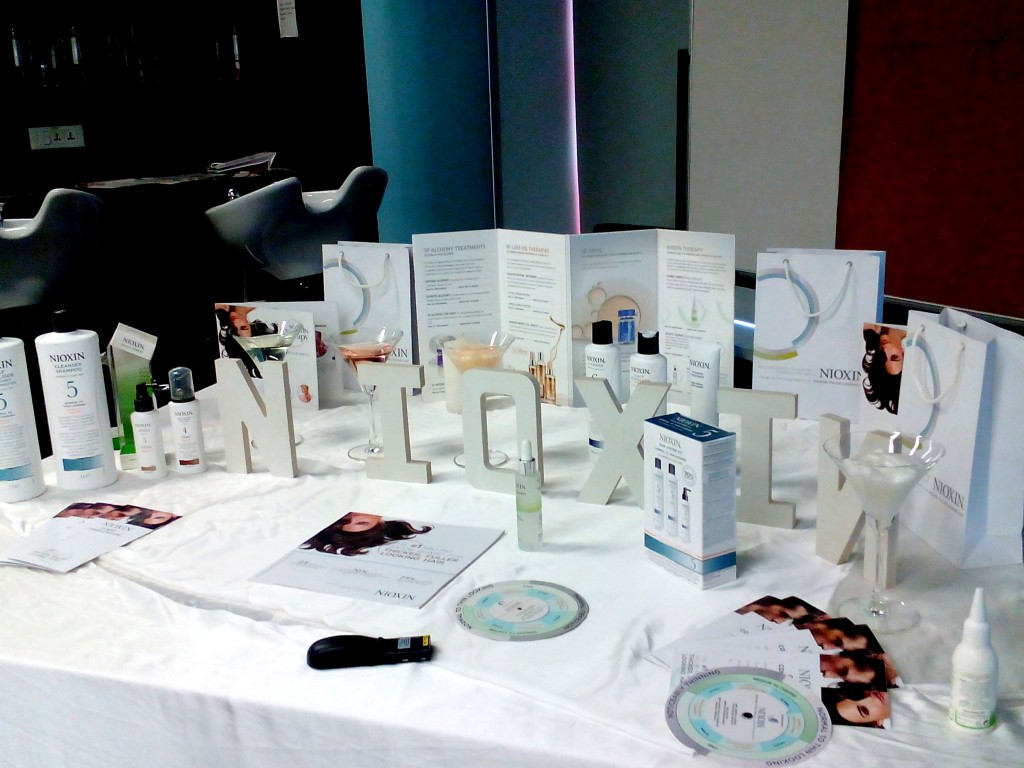 I think Hair fall is something we all experience at some point in our life. These days I have seen people go and spend whooping amount of money on brands claiming to stop their hair problems, but getting no positive result in the end. We as Indians are really famous for our healthy mane all around the world. Our rich culture and heritage have these deep rooted and valuable remedies for so many of our skin and hair problems. But sometimes, these things don't work as of changing times. There is so much of pollution and harsh sun now that you really need something extra to take care of your hair.
So how you feel when you have really stressful tresses and you get invited for #nioxinnowinindia event, lucky I would say. I was one of the few lucky bloggers who were invited for the launch of Nioxin here in Delhi. The event happened at a Wella salon at Select city walk, Saket.
We were given a detailed introduction of what exactly is Nioxin with a Video presentation.
Then all of us bloggers were catered to individually and our hair were checked and we were also asked many questions in regards to our lifestyle, eating habits and hair care as these things really matter in the nature of our hair.
Nioxin has 6 types of "hair solutions" according to your hair type. After the QnA session and hair checkup I was advised to use Number '3' for my hair.
It started with a Dermabrasion procedure all through my hair and scalp for exactly 10 minutes( Yeah they had a stop watch for that) After that the hair were cleanse using a mild shampoo and I could feel the cool peppermint in my hair. It was followed by a revitalizer which was applied to my scalp and hair. Then a hair masque was applied to only the lengths. The best and my favorite step was the last one, when the scalp treatment was applied to my scalp and hair. I could feel my dry hair really soft and moisturized.
My hair were then blow dried straight and I am loving it as in reality you know my hair is anything but straight. Also, I never use any heat on my hair and keep them natural. I am so excited that it's been three days and I have not washed them yet, which is not cool as I have to try the Nioxin products for 20 days and tell you all an honest review about it (17 days in my case :p).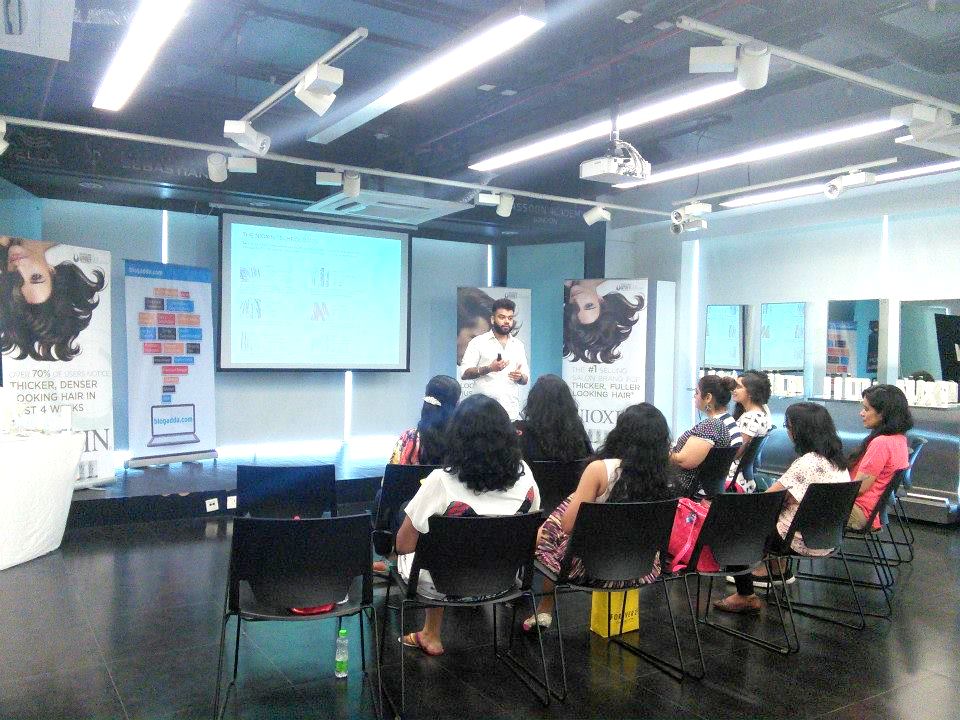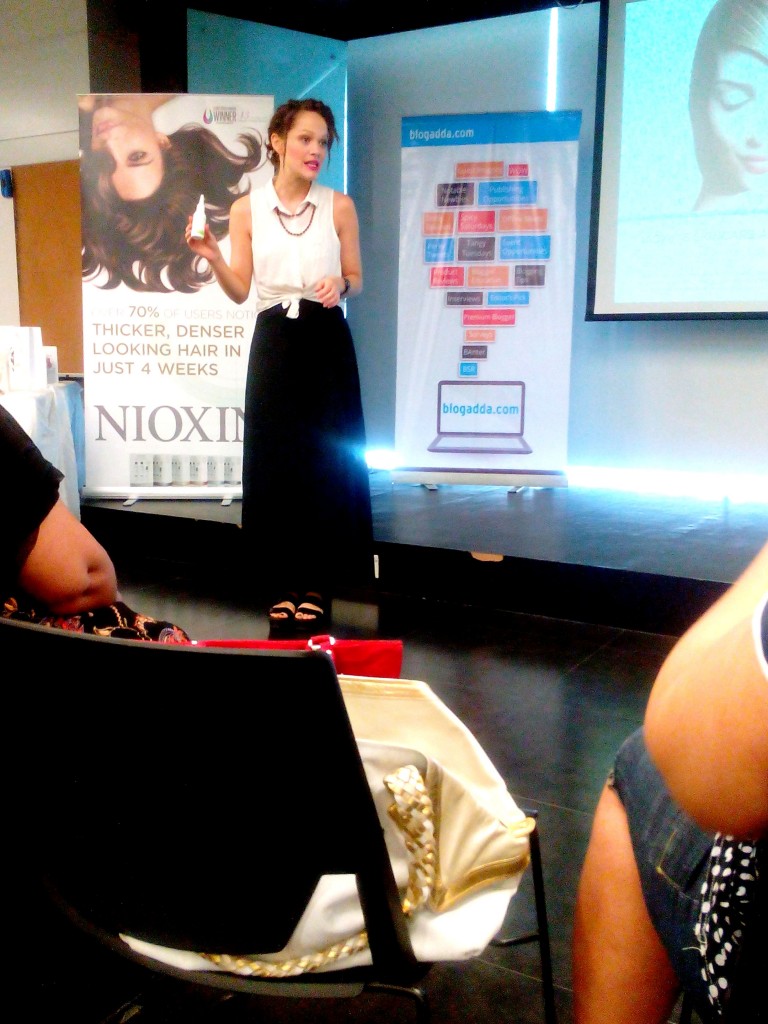 Before the event!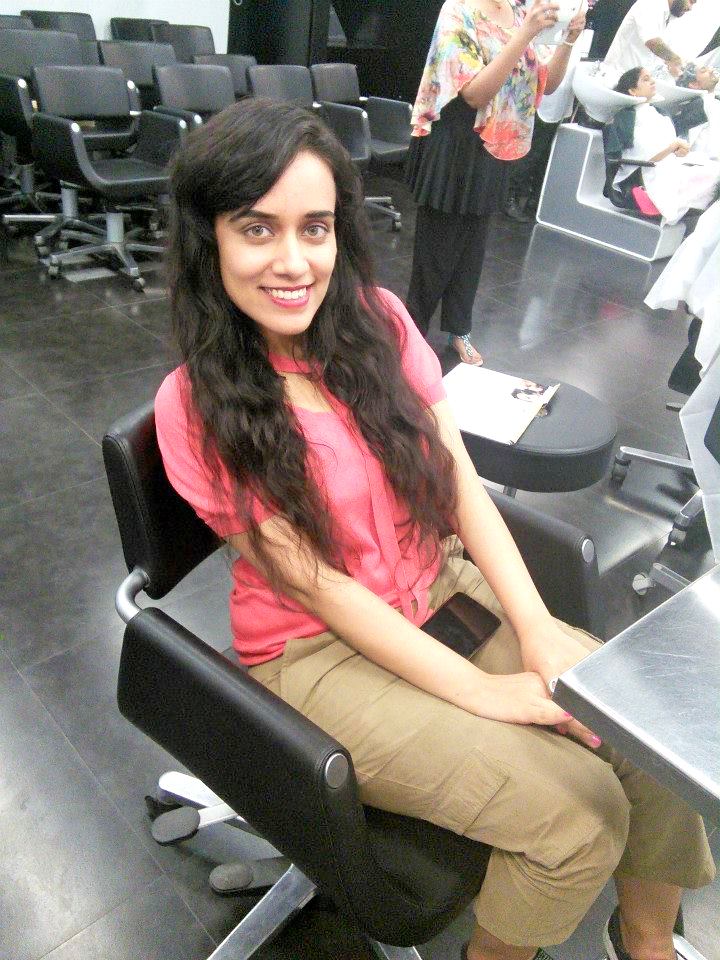 So you must be thinking what is so special about Nioxin?
NIOXIN is the leader in providing solutions inspired by skin care to improve the appearance of thin-looking hair. Founded in 1987 by Eva Graham, the Company has been dedicated to providing education and products for consumers through the professional salon industry around the world. NIOXIN's systems of products and treatments have been shown to effectively address thin-looking hair.
In fact, 70% of users noticed their hair looked more thick and dense after just 4 weeks. And, clinical testing shows that the NIOXIN Density Restoration Treatment is so effective it helps reduce hair fall by an average of 54%. Also, 70% of consumers who used Nioxin once never switch to any other brand.
Many answers on the market are either drug-based or serve to camouflage the condition. NIOXIN's holistic approach to thinning hair is a very different approach that does not aim to regrow hair or camouflage the issue. Nioxin's innovative skincare- inspired technology delivers thicker, denser looking hair without side effects.
THREE SIGNS OF HAIR THINNING – The natural hair growth cycle can be disrupted by a variety of factors. Thinning hair is due to:
Derma – Unhealthy scalp environment
Density – Fewer hair strands
Diameter – Finer hair strands
Whatever the factors underlying your hair thinning, NIOXIN has the expertise to address your issue with an individually tailored treatment.
The 3-step systems are designed for daily use, but can be used less frequently.
The Nioxin cleanser (shampoo) is applied to wet hair and lathered for one minute before being rinsed out.  This is immediately followed by the Nioxin Scalp Therapy (conditioner), which is left in for one to three minutes.The final step of the system is the leave-in Nioxin scalp treatment, which is applied after the hair is towel-dried.  The treatment is distributed evenly throughout the scalp and hair before combing through.
So guys wait for my detailed review on it soon.
Happy hair days to each one of us!
A Big Thank you to all the Nioxin experts and the Blogadda members who really looked after us all through the event.
"You can try and experience #NioxinNowIndia at your nearest salon. This activity is in association with BlogAdda.com"
After the event!