Now don't think that this girl put vegetables even in cakes. So Gheeya is super good for health and the best part is it has a lot of water content so it makes the cakes super moist.
Gheeya has 96% water content, Fibrous, brings down bad cholesterol levels, main blood sugar levels. Aap convince hue ya main aur likhu?
Wash Gheeya properly as taught in the Quarantine's times, forget old ways. Then Grate it to be used later in cakes.
Also, I made 5 cakes (Pictured below) , forget the 5th one, I ate it right after making it. So i made 3 Gheeya cakes, 1 Banana Bread (dark brown one, not sharing recipe of this as everyone has made one during Quarantine, so so many recipes online) And this heart shaped cake is also gheeya one but i topped it up with Cake crumb topping, recipe of which is linked in the end of the post. You can top any cake with this topping.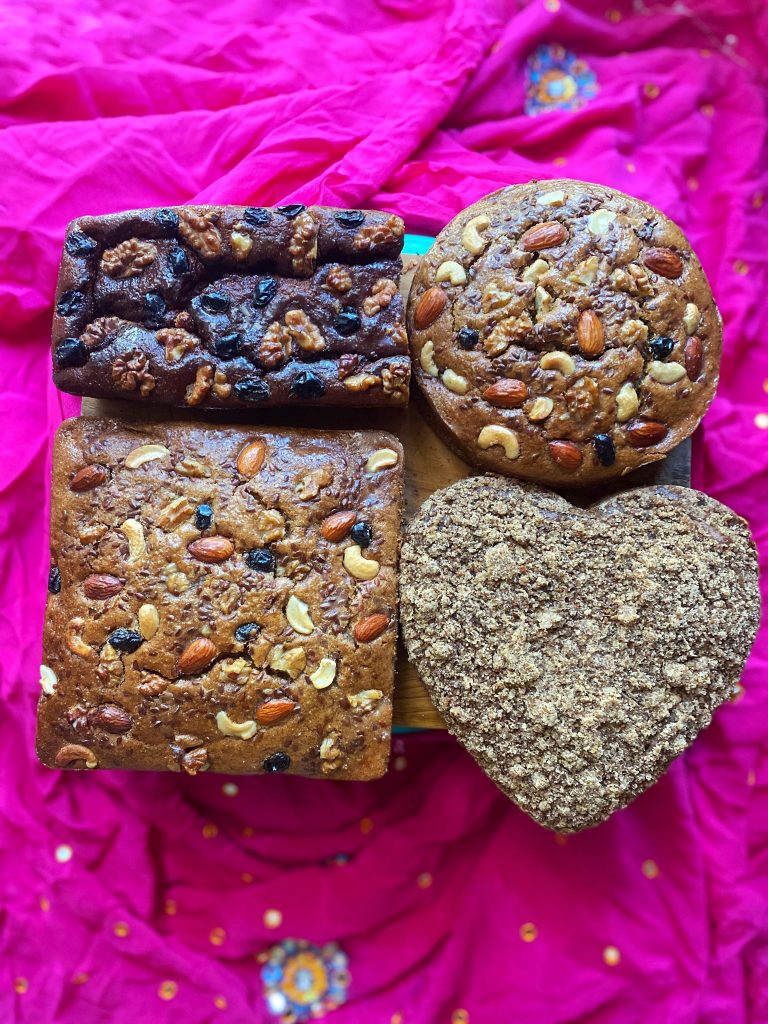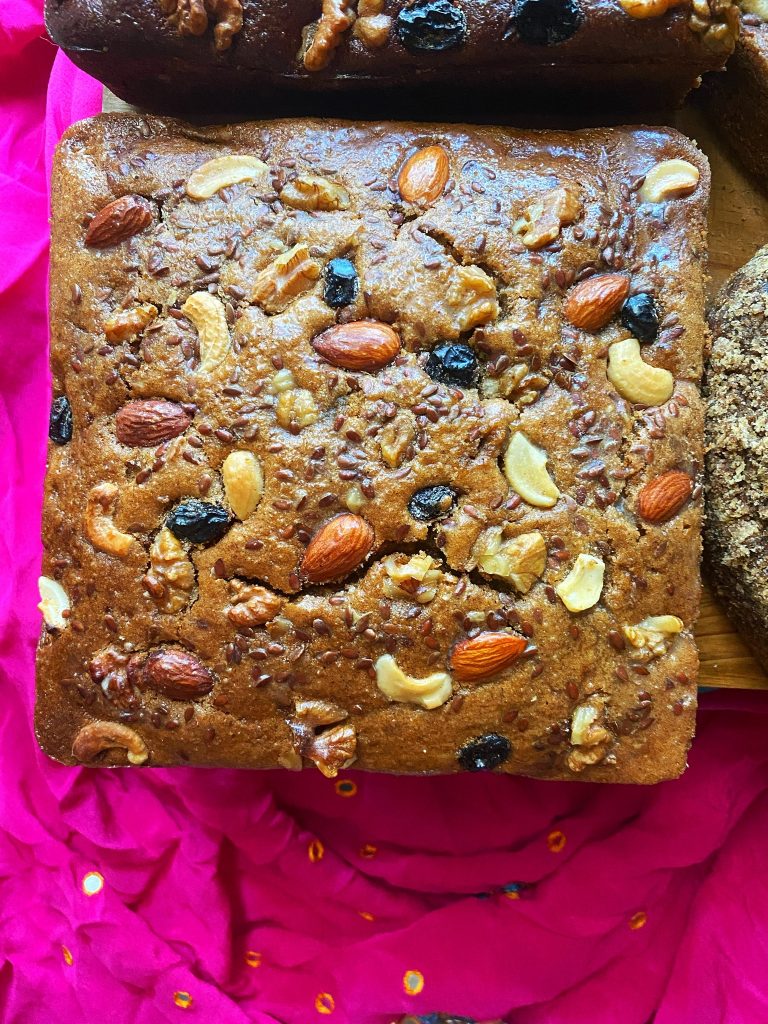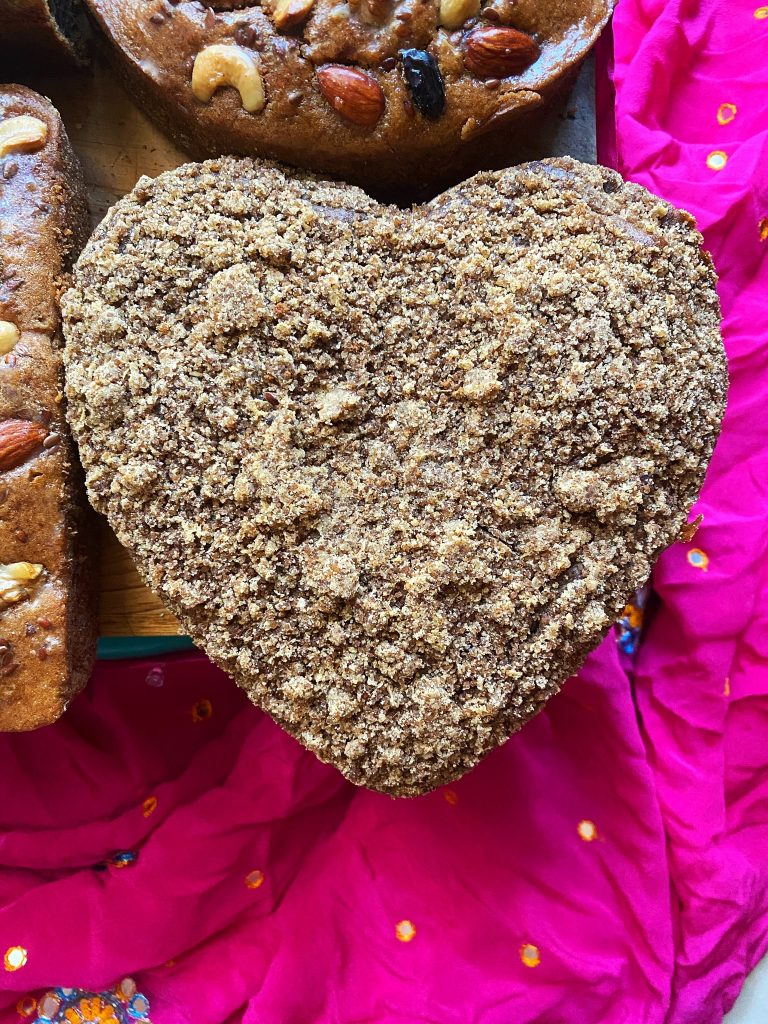 After watching this video yesterday, SO many of you asked me for the cakes recipe, so here you go.
INGREDIENTS:
Atta – 3 cups
Gheeya – 2 cups
Salt – 1 teaspoon
Baking Soda – 1 teaspoon
Baking Powder – 1 teaspoon
Cinnamon – 2 teaspoon
Nutmeg Powder – ¼ teaspoon
Jaggery Powder/Brown Sugar/White Sugar – 2 cups (Add 1.5 cups and then taste)
Eggs – 3 ( Use Flax egg if Vegetarian, google it) OR (use ¾ cups of Buttermilk)
Oil – 1 cup
Vanilla Essence – 1 teaspoon
Dry Fruits & Seeds – Whatever you have at home ( I used walnuts, black raisins, Almonds, flax seeds)
PROCEDURE:
Mix all dry ingredients together (Atta, Gheeya, salt, Baking soda, Baking powder, Cinnamon, Nutmeg)
Mix Sugar and Oil with a whisk. Once creamy, add egg one by one while whisking.
Add Vanilla essence.
Now add dry ingredients to the batter.
Once everything is smooth and mixed, add our star ingredient, Gheeya.
AFTER ADDING GHEEYA, DON'T OVERMIX IT. JUST FOLD IT IN.
Add dry fruits, save some for top.
Now divide the batter into TWO CAKE TINS, NOT ONE! Grease the tins, okay?
Bake at 170 degrees for 45 minutes in a pre-heated oven. Keep checking it after 40 min by inserting the knife in center of the cake. If it comes out clean, then it's done. If not, keep it for more. But stand around your microwave after 35 min as all microwaves are different.
MOST IMPORTANT TIPS:
I mixed everything in one bowl and used electric mixer so the batter gets fluffy and light.
Wanted to use as less utensils as possible so did not sieve my dry ingredients.
Add dry ingredients later once the batter is fluffy and smooth using either a whisk, fork or electric mixer.
Never ever use granulated sugar, always powdered sugar or powdered jaggery!
When you will add the dry fruits on top of cake batter, they will drown, HAHA. So to save that, dust your dry fruits and seeds in atta before putting it on cake batter.
If you don't have microwave, you can make it in cooker too.
If there is any question, confusion, then you can ask here, or on my Instagram post here.
Also, the heart shape cake is topped with crumb topping, recipe of which is here.
Also, made this Indian ingredients waala no bake cheesecake a while back, check out the recipe here.
Follow me on Instagram here.