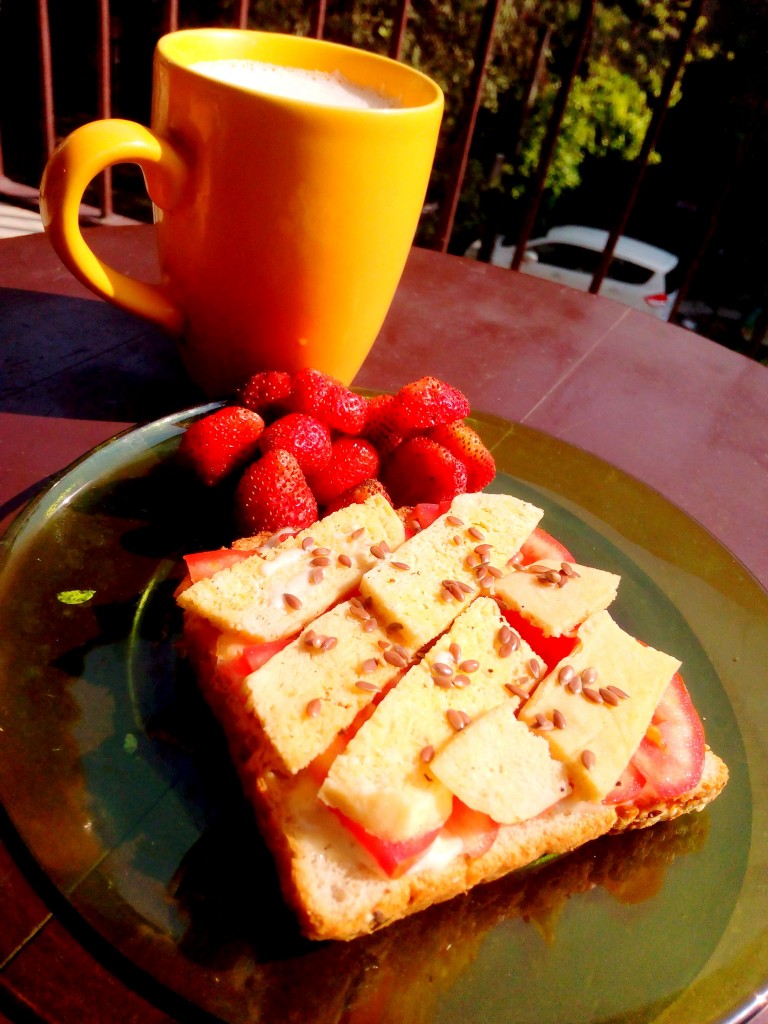 I was in no mood to look at food today! Maybe the Birthday cakes since past two days.This I had to eat because Breakfast!?
And I feel really lazy today. I can sleep while typing too. I have so much work to complete and so much sleep to finish too in my eyes.
Today's Breakfast took hardly five minutes to make and eat, was a no brainer but healthy.
I have this urge to play Squash today. My brother and I used to play a lot of it while we were in School. It is a great sport to take out anger to feel fresh and fit. Do you guys play any 'outdoor' sport anymore? I did cycling and chased a kid down the street this week if that counts.
Also does Coffee really helps you wake up? If yes, then I might have some too today. I will be the cool girl who knows her coffee really well. One Hazelnut latte minus sugar!? Or I would sprinkle some in my glass of milk and be my Ninja self.
Breakfast:
Toasted Bread+ fatfree Mayo+ tomatoes + tofu+ flaxseeds + Milk + Strawberries
Now this sounds a like a lot hahahaa!
Also a lot of you have been asking me where to buy Tofu, like real tofu. Well all your prayers have been answered. You can buy three types of Variants from here.
And to know more about Flax seeds read here.
Open your eyes and enjoy the day!
Happy Baisakhi!