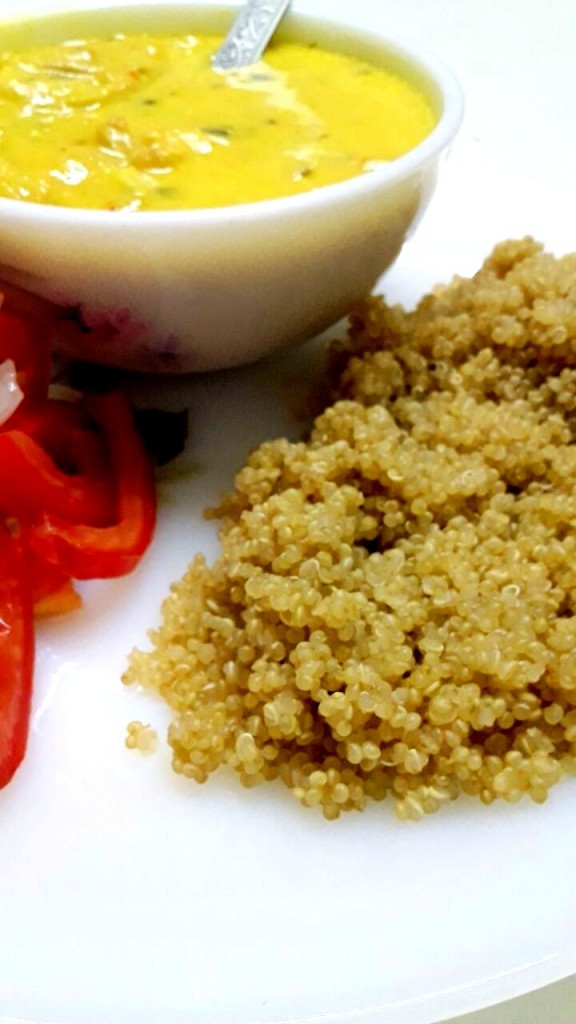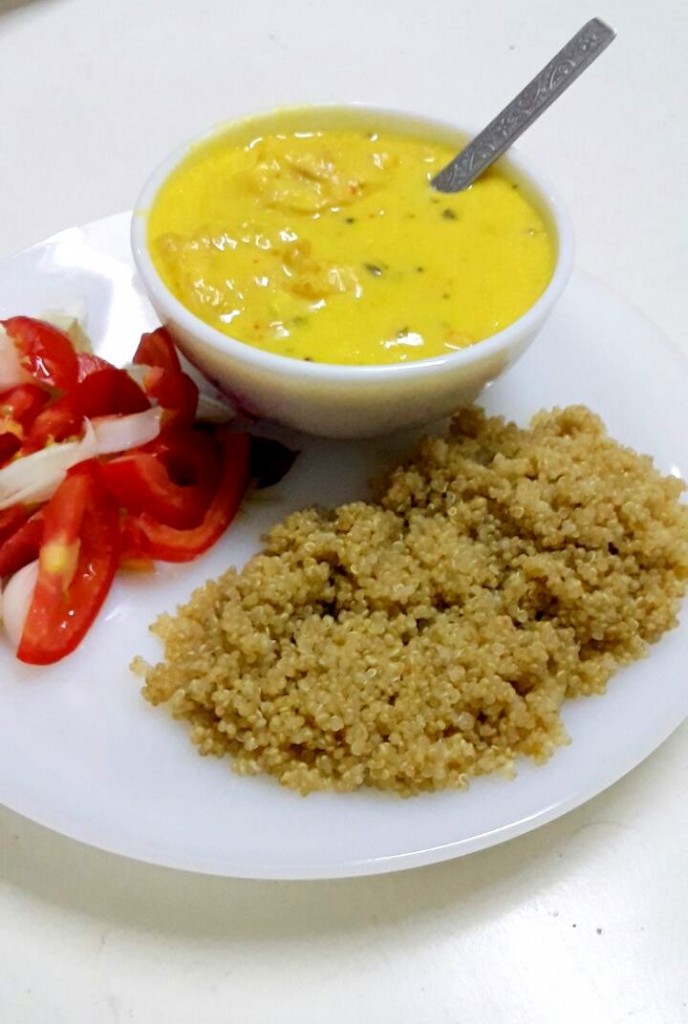 It isn't half that easy as I expected it to be. But well then, nothing good is ever easy, right!? Preparing up dinner (although it take not more than 15 minutes ever, as veggies/dal subzi are not prepared by me), still it takes a toll on me, clicking pictures after plating and then eating. Mother's have a hard job, really!
Coming back to the post, I was after my mom to cook Kadhi and when she finally obliged, I went ahead with Quinoa and not rice to "maintain" the sanctity of these posts, lol. Let me tell you, apart from being a healthy grain, Quinoa is very filling too. I always buy my Quinoa from Naturally yours, here. If you are looking for good quality and super fast home delivery options then you can always depend on them. If you are buying it for the first time, then it might look a bit pricey, but let me confess you need a very tiny quantity for cooking as it is so filling. ( don't imagine quantity of rice while eating okay)
I had tomatoes and spring onion for my Dinner to compliment my yummy curry and add color to my plate.
Curry and Quinoa
1 bowl Quinoa
1 bowl Kadhi ( Prepared by mom)
 Salad of your choice
– Take 1 bowl Quinoa in 2.5 bowls of water and let it boil.
– Put it on simmer, cover it and let it cook. (Add seasoning)
– Wait until all the liquid is absorbed, fluff it with a fork.
– Quinoa is cooked. Serve with curry and salad.
* Quinoa is a psuedo cereal, but is eaten like a grain.
* You can have it for any meal of the day. Basically, sweet, savoury or spicy. Sky is the limit when it comes to Quinoa.
* Often referred to as the supergrain, Quinoa (KEEN-wah) is high in fiber and high-quality protein. In fact, it contains more protein than any other grain while also packing in iron and potassium. One half cup of Quinoa has 14 grams of protein and 6 grams of fiber.