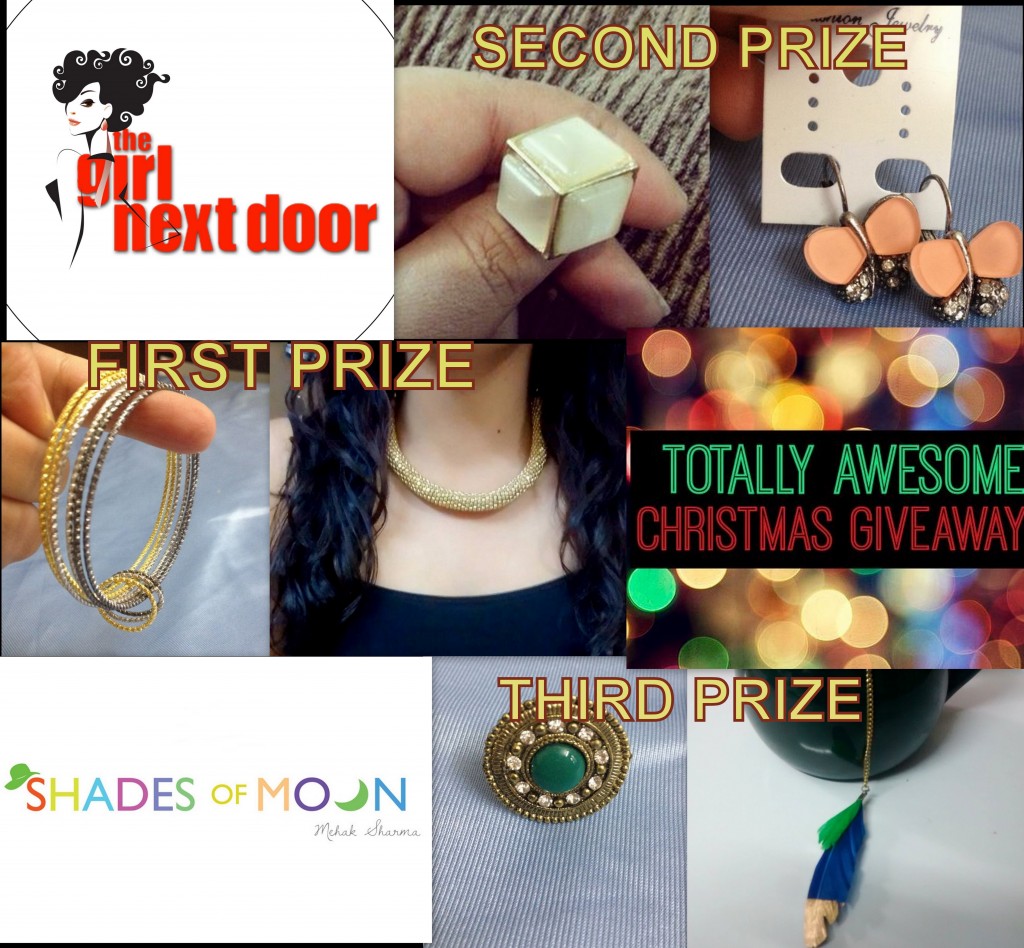 Holidays are meant to be celebrated, basically eat and dance or be a couch potato or whatever makes you happy. So when the "Girl next door" suggested about this Giveaway, I was more than happy to be part of it and make the yearend for you guys Happier and merrier.
I feel it's not about looking back, learn and analyze. This time of the year is to just spend time with people close to you and saying lots of Thankyou, loads of it. I might be the weird human who feels just enjoy everyday whatever the calendar says. Yeah but Birthdays are important, so are festivals, so is Christmas. haha..
Coming back to this post, let me keep it short and to the point now atleast.
We (The girl next door + Shades of Moon) would like to Thank each one of you who have been part of our Journey and this is least we could do.
Totally Awesome Giveaway is here to make your Holidays happy and colorful. Prizes to be won:
1st – Tangled bangles + Golden rod necklace
2nd – Cube ring + Peach butterfly earrings
3rd – Feather earcuff + Fusion green ring
**Teeny tiny rules**
* Follow "The Girl Next door" and "Shades of Moon" on Facebook and Instagram.
* Repost this picture and tag both of us on the picture, not in the comments.(Profile must be public for us to view)
*Tag five friends in the comment who would like to participate.
* Account with Maximum activity would increase your chances of winning.
Contest closes on 3.1.2015, 12 midnight.
So friends Share, tag, repost as much as you can!
Make the yearend vibrant and cheerful.
Lots of love and wishes! 🙂