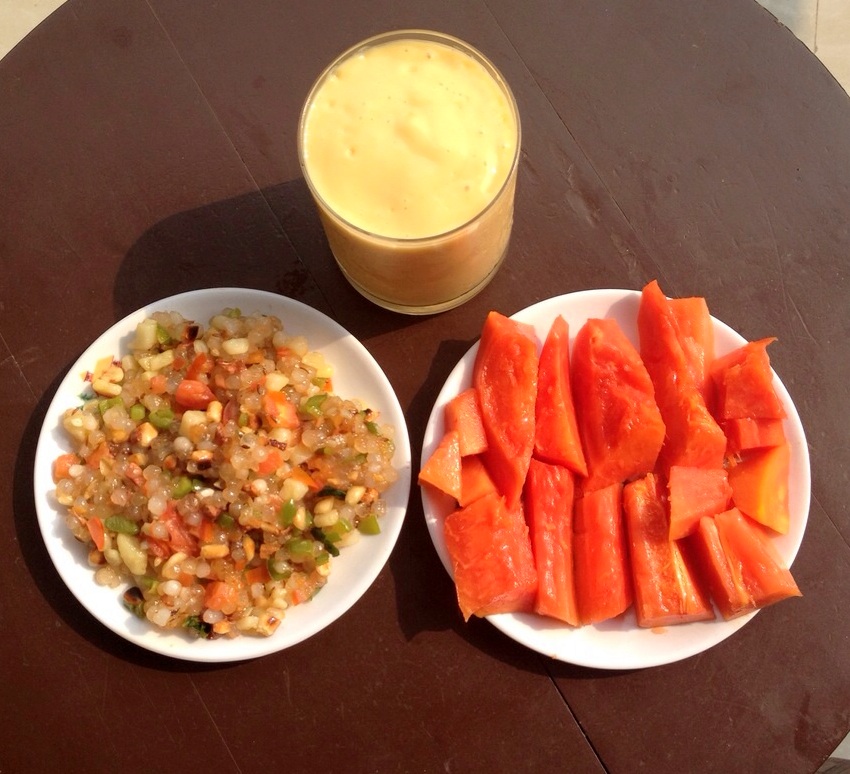 Hello Gorgeous people!
I realized I never really start any blog post with a greeting. Maybe because in my head I am having a conversation with you guys all the time. The girl gets down to business without wasting a moment.
Breakfast –
Today was one of those rarely rare days when our Kitchen was filled with Indian fragrances in the Morning. I have hardly grown up on an Indian Breakfast so I too am not 'used' to that too. With my 30 day Breakfast challenge I am trying to make as much Vegetarian Breakfast as I can (because when in Rome), leaving the exception to egg.
I love Sabutdana (Sago); I was first introduced to these little white Magic balls during one of the days when people keep fast. And there has been no looking back since then. I recreated the 'fast' food (You get what I did there? Haha)
Sabutdana Khichdi (with Potatoes, Capsicum, Tomato, Peanuts) + Papaya + Mango Lassi with Palm Sugar
In past few weeks I have been 'trying' to eat Healthy as I gained quite some unwanted pounds suddenly, damn those skinny jeans I tell you.
The thing is my body is responding really well and I am super happy. Last evening I had chips and dip (yes cheesy) and my body did not accept more after a quarter of packet. I had to stop. It was not like I was full (I am never full, I am a black hole) but my heart was. Am I making any sense? I am trying to, not sure if I am succeeding here.
My theory says Heavy Breakfast keeps your tummy satisfied for a long duration, so by the time you have had all your meals like a good girl and you have an option of a little indulgence, you must and eventually you will stop yourself without going overboard.
I like it.
And on that note, I can go for a little day dream about a Beach Holiday.